Published On
FIFA World Cup 2022 Qualifiers: Brazil vs Argentina Suspended Over COVID-19 Breach
The match between Brazil and Argentina has been postponed due to a "failure to follow health regulations."
Author :
Sheetal J Bhalla
The World Cup qualifier between Latin America's powerhouses, Brazil and Argentina, was suspended on Sunday night after Brazilian health officials stormed the pitch to detain Aston Villa's Emiliano Martinez, Giovani Lo Celso, and Cristian Romero, both of Tottenham Hotspur, for allegedly breaking Covid-19 protocols. Aston Villa's Emiliano Buendia was the only player left out of the team.
Prior to the match between the South American rivals, Brazil's health department had ordered four Argentine players from the English Premier League to be quarantined. See how Brazil officials entered into the game.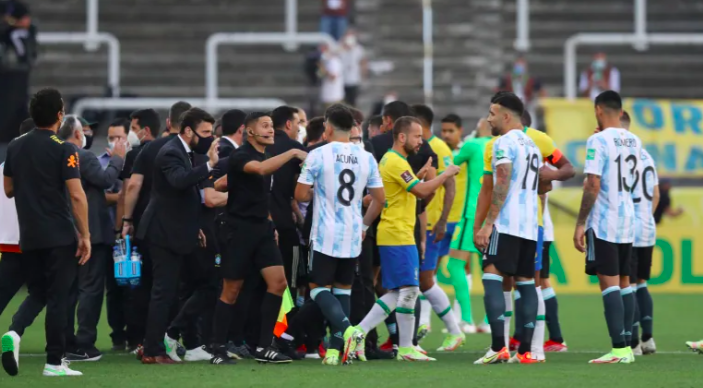 Martinez, Buendia, Lo Celso, and Romero came to play for Argentina despite the Premier League's objections to players being released for international duty since they would have to stay in a hotel for ten days when they returned.
Also Read: Tokyo gold medallist Pramod Bhagat once had no money to buy racket
Prior to the game, the four players were still seen boarding the Argentina squad bus. The four players were also told to return to their "country of origin" by Brazil's health department, without providing any further details.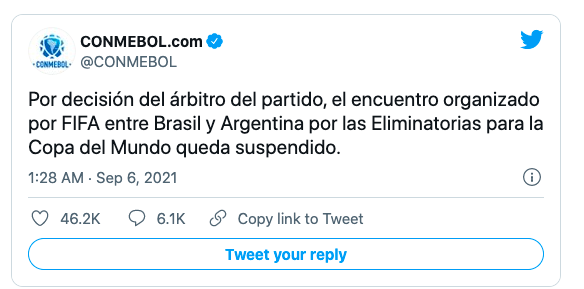 Above mentioned is the official statement from the Conmebol. It reads as follows: "By decision of the match referee, the match organized by FIFA between Brazil and Argentina for the World Cup Qualifiers is suspended."

Also Read: Fourth Test: India all out for 466, set a target of 368

They are now caught up in Brazilian quarantine regulations.

If Argentina and its players did not follow the mandatory Brazilian health procedures, FIFA must award Brazil the forfeit win.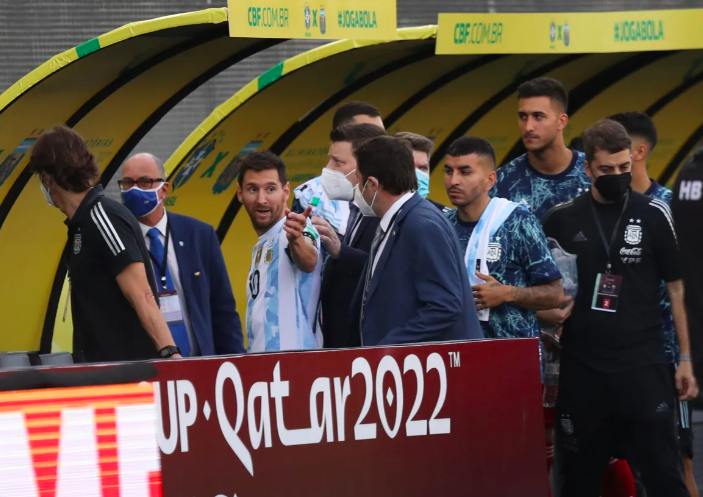 Four Argentina players will be punished and deported, according to Antonio Barra Torres, president of Brazil's health agency, Anvisa. They reportedly did not follow Brazil's COVID-19 standards.
According to Brazil's health ministry, all four allegedly informed immigration authorities that they had not travelled to the United Kingdom or anyplace else on Brazil's COVID-19 risk list in the previous 14 days. In Brazil, those who have are subjected to a 14-day quarantine.
Argentina coach Lionel Scaloni expressed regret over the outcome, saying that he and his players would have preferred to play the game. More than two hours after the match was originally halted, he and his team have yet to leave the stadium.
"This is how a match between some of the greatest in the world finishes. I'd like for people in Argentina to understand that as a coach, it's my responsibility to look after my players. I f people come to me and say they have to deport them, I would not allow them to ply " Scaloni told TyC Sports. "We, like the Brazilians, wanted to play the game." Interim head of Brazil's soccer association, Ednaldo Rodrigues, described the health agency's decision as "strange." "The Brazilian soccer confederation was never in favour of this," he told TV Globo.