India vs Pakistan in the T20 WC 2022 final? Here's how it is a possibility now
The Babar Azam-led side held their nerves and finally made it's way straight into Semi-Final, thanks to the Netherlands' victory over the Proteas earlier today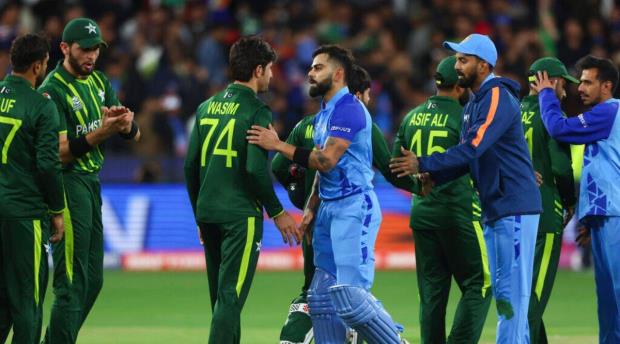 -

"All is well if it ends well," a quote that would perfectly summarize Pakistan's journey in the ongoing T20 World cup, fortune has turned for Pakistan after suffering two consecutive defeats against India and Zimbabwe in last-ball, nail-biting thrillers.

The Babar Azam-led side held their nerves and finally made it's way straight into Semi-Final, thanks to the Netherlands' victory over the Proteas earlier today and a thumping victory of 5 wickets with 11 balls to spare over Asian tigers Bangladesh ensured their consolidative move into the final four.

Meaning we can we the grand Indo-Pak encounter at the biggest stage in the history of their iconic rivalry by far if they both manages to win their respective semi-final matches against England and the New Zealand.

Pakistan get back to winning ways with a much-needed victory against the Dutch side and kept their hopes alive after stunning the table toppers Proteas in a 33-run victory in the run-affected match.

With the Netherlands defeating the South African team, India automatically qualified for the Semi-Final with 6 points in 4 matches and a match to go against Zimbabwe in the thrilling triple-header today.

Batting first Bangladesh posted a humble target of 128 after losing 8 wickets to a tough Pakistani bowling lineup. Shaheen Afridi after heading to an ordinary beginning in the tournament proved his mettle and was on an absolute carnage against Bangladesh taking 4 big wickets by conceding just 22 runs in his spell of 4 overs.

With this victory, Pakistan has mounted up the table in Group 2 leaving arch-rivals India at the second spot owing to the better net run rate, however, this will remain as it is and will only get clear after India's match against Zimbabwe.

If India wins they will be finishing as the table topper and will lock horns with 2010 champion side England, however, if Zimbabwe pulls off another upset of the thrilling world cup campaign India will meet the mighty Kiwi side, which has never lost against India in the T20 WC history.