Published On
Innovation Mission Punjab celebrates the spirit of Startup Day in Jalandhar
The event was organised to discuss ideas and build a startup community through networking
Author :
Guneet kaur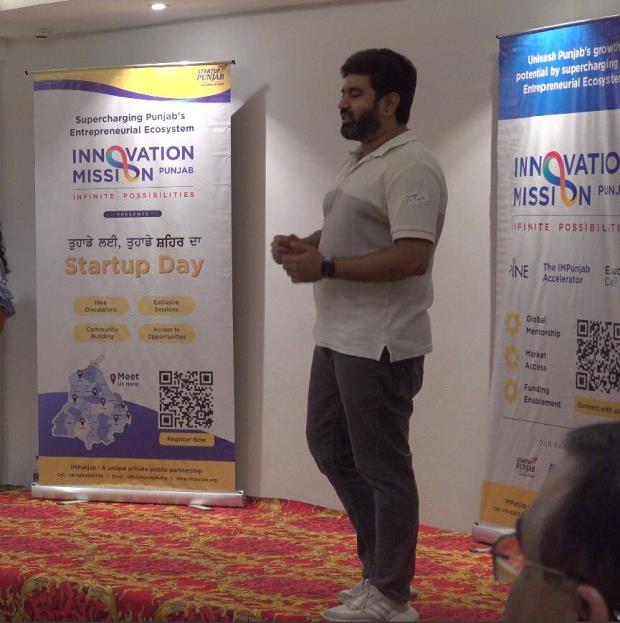 Innovation Mission Punjab (IMPunjab), a unique private-public partnership that aims to build, empower and act as a catalyst for local startup communities in Punjab, held a Startup Day in Jalandhar today at Ramada Encore. The event was a part of the Mission's plan to conduct eight startup day events during the current calendar year. This initiative aimed to yield a platform for the new entrepreneurs and startups based in Punjab to meet, communicate with community members & stakeholders, and create opportunities for their startups to grow further.
This was the third edition of the Startup Day series after the success of the first and second ones held in Chandigarh and Ludhiana, which created a regional access point for entrepreneurs to aid them with an action plan and provide access to the startup community and other support.
Key takeaways for the participants were:
●
Assistance and suggestions for improvement
●
The opportunity to connect and build networks with various stakeholders from the region
●
Becoming a part of the community to participate in multiple initiatives at IMPunjab actively
●
Entrepreneur interaction with Industry leaders from the region
The meet enabled the startups to get funding support, mentoring support, incubation/acceleration support, and piloting opportunities during their startup journey. The panel consisting of
Mr. Sahib
Dhiman
(Dhiman Industries), Mr. Sahiel Sood (AHS Invest), Mr. Shibanadan Dash (NIT - Jalandhar), Mr. Kanwar Singh (Vellom), Mr. Aman Mittal (Lovely), Dr. Sorabh Lakhanpal (LPU), Dr. Kanishka Jha (LPU) & Mr. Dhaval Kaku (IMPunjab)
had engaging conversations with a few startups namely
Roomsvital, Stylus, Urban Sabzi, McGills Engineering solutions, Agvisi Technologies, Truescoop among many others.
Talking about the Event, Somveer Anand, CEO & Mission Director, IMPunjab, said, "Through this Event, IMPunjab wanted to offer a platform where budding startups and entrepreneurs can meet people from the startup community. Engage with stakeholders like incubators, accelerators, industrialists, founders, and enablers that will help them create a network, upscale and improve the functioning of their business. With such initiatives, we aim to propel Punjab amongst the top three innovation ecosystems in the country."
The event began around 1:00 PM, with startup registrations followed by a session on the essential things an entrepreneur should consider while discussing their ideas. The budding entrepreneurs/early-stage startups then presented their ideas, followed by an open feedback session.
Prominent industrialists & Entrepreneurs from the city, Rajesh Kharbanda from Nivia Sports (Chairman - CII Jalandhar), Varun Singla from Bhola Shola, Aman Mittal from Lovely Professional University respectively also conducted sessions on entrepreneurship and industry and shared their experiences to encourage the youngpreneurs. The networking session concluded with team-building exercises and fun activities to engage the community.
IMPunjab is backed by some of the marquee names in the private sector and strong support from the Punjab Government. The Mission is chaired by Pramod Bhasin, Founder, Genpact, Clix Capital, and Asha Impact.
The Board of Directors includes eminent leaders such as Saurabh Srivastava, widely acknowledged as an architect of the Indian IT Industry, noted economist & author Ajay Shah, D.S. Brar, Promoter-Chairman, GVK Bio, and award-winning film producer Bobby Bedi. The Mission also has Naina Lal Kidwai, Manoj Kohli, Rajan Anandan, Ido Arahoni, architect of Brand Israel, and other business leaders on its Advisory Board.