Published On
Is MS Dhoni's wife Sakshi Pregnant Again? Know if parents are expecting their second child
MS Dhoni and his family have received some good news.
Author :
Sheetal J Bhalla
The question on everyone's mind right now is who will write MS Dhoni's script after Chennai Super Kings (CSK) won their fourth Indian Premier League (IPL) title by defeating Kolkata Knight Riders (KKR) by 27 runs at the Dubai International Stadium on Friday (October 15). Although there are numerous other variables that contributed to CSK's amazing IPL run, none compare to Dhoni's genius and savvy leadership in guiding CSK to victory.

The team combinations and their failure in the 2020 edition were thrown into doubt as the UAE leg began. There was also a looming worry about Suresh Raina's form, as well as a question about Dhoni's own form. Nonetheless, the 40-year-old dispelled all worries by brilliantly marshalling his men to lead CSK to yet another IPL title. When Dhoni receives the trophy, he hands it across to one of his colleagues. He presented it to Deepak Chahar this time.

Sakshi, Dhoni's wife, was also there during the celebrations and hugged him passionately. Ziva, their daughter also joined them. Sakshi is dressed in a flowy yellow outfit in the shot. The question of whether she is pregnant for the second time has sparked speculation. Sakshi is currently pregnant, according to Suresh Raina's wife Priyanka, and the pair is expecting a baby in 2022.

Dhoni and Sakshi already have a daughter, Ziva, whom they welcomed into the world in 2015. Ziva is a social media celebrity, and her every move draws a lot of attention and appreciation from her followers.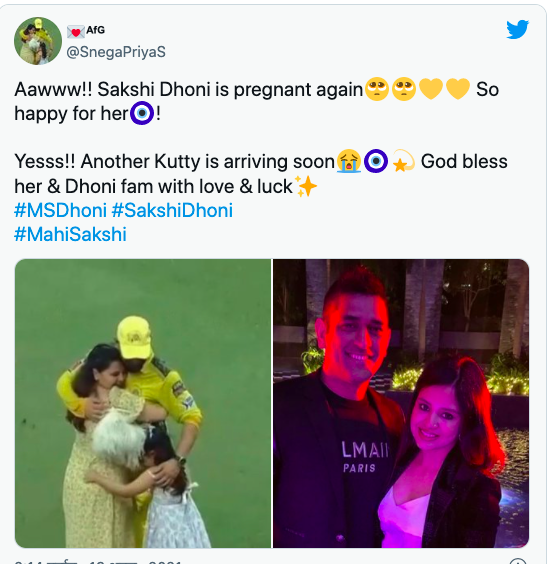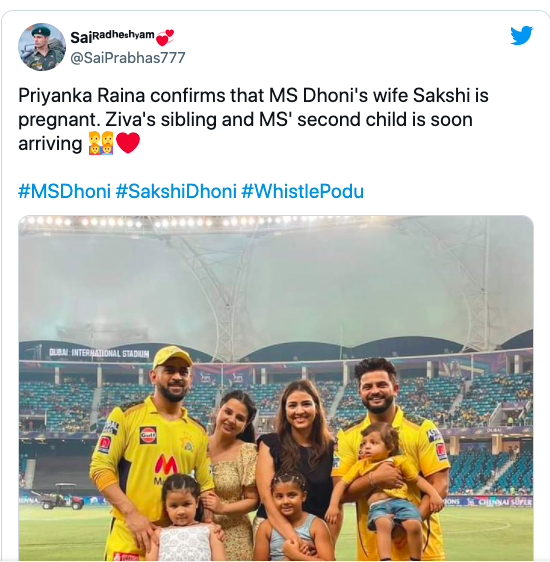 Meanwhile, MS Dhoni will serve as a mentor for Team India for their next T20 World Cup campaign. The last time India won an ICC trophy was in 2013, when they won the ICC Champions Trophy in England under Dhoni's captaincy. Dhoni is credited with spearheading India to victories in all three ICC tournaments. Virat Kohli is also excited about the tournament.

He will command India in the T20 World Cup before stepping down as the team's T20 captain at the end of the competition.