Published On
Is Nora Fatehi dating Aryan Khan? Netizens speculate link-up after party pictures from Dubai surfaces; Watch
The duo was spotted at the New Year Party in Dubai from where fans shared pictures online Author :
Sukhdev Singh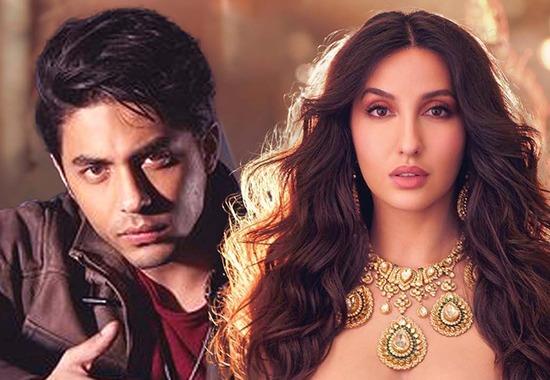 Among Bollywood's most-talked celebrity star kid Aryan Khan has been cornering all sorts of the limelight on his move and has now made a cut into the headline after fans got believing that he has found his lady love.
King Khan's son Aryan is linked to international diva Nora Fatehi after the pictures of the duo partying together on New Year's Eve surfaced from Dubai, while there is no hint from the duo the fans are putting the two couples together.
Aryan Khan and Nora Fatehi are dating?
The two stars were pictured with fans recently, although you won't be seeing the duo's pictures together but were taken by different people at the same time at the same place where they were partying. With a multitude of pictures to prove a point, social media was quick to start speculating about a possible brewing romance.
Netizens react to rumors:
Video: Ayesha's 'Mera Dil Ye Pukare' resurfaces with a Bhojpuri Twist 'UPSC Wala', taking the internet by storm; Watch
During a discussion on Reddit, people debated whether the two were dating, while some pointed towards the possible link-up saying, "I want this to happen just to see Ananya get mad LOL. If it's true then I don't see the big deal. It's only a 5-year age gap and Aryan is in his mid-20s," others researched and commented, "Also, Nora follows Aryan and Aryan follows her back. She doesn't follow suhana though. Aryan was rumored to be dating Riaa Mehta and she follows him and the dyavol workshop page too. He follows Riaa too."
Watch Here:
At a time when social media is on fire with speculations and possible link-up, the duo has chosen to remain silent neither source close to the two has confirmed it.
Whereas, there were others as well who were quick to dismiss the possible relation saying, "Bro, getting pictures clicked together doesn't mean they are a thing. Grow up!!! And if you love making these theories then why are you so exclusive? Try to be inclusive and put a post when you spot two girls together. Nora and Suhana were having dinner as well," one netizen commented.