Published On
Is Jalandhar Police Station the New Venue for marriages?
An unusual wedding took place at the Navi Baradari police station on Monday.
Author :
Priyanka Vinayak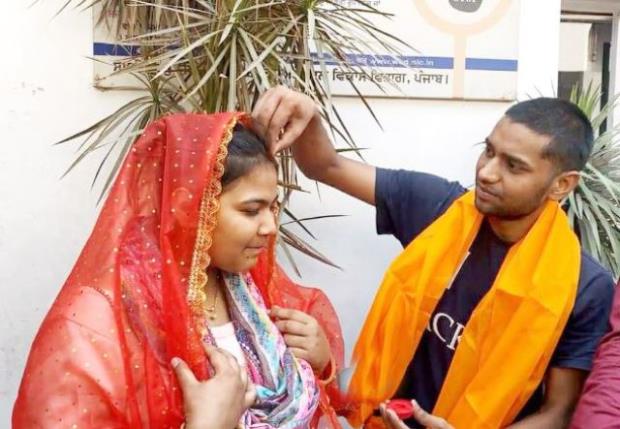 Wedding season is going on. Many couples are getting married. Though Jalandhar has a plethora of wedding venues, a unique wedding took place at Jalandhar Police Station.
An unusual wedding took place at the Navi Baradari police station on Monday.
The boy Ajay Sidhu from Phillaur fell in love with the girl Geeta from Nurmahal and both started living together. They got married in the temple. After this, the boy turned away from marriage under the pressure of family members, but the girl collided with the world for her love. When the matter reached the police, seeing the girl's spirit in the police station, the boy agreed again.
On Monday, when the police called both parties to the police station, Shiv Sena Samajwadi Punjab chairman Naridar Thapar came in favor of the girl. The boy's side started a dispute in the police station and the boy retracted from the marriage. Seeing the matter increasing, the police of Baradari police station reached the spot and brought both the parties to the police station.
The police asked the boy to tell the truth, then first the boy refused to marry, But later when the girl had a word with him, Ajay agreed to get married. After this, the girl talked about getting married to the boy's family again. At first, the boy's relatives kept refusing, but when Ajay agreed to the marriage, his relatives left in anger. Naridar Thapar got a garland there and got all the marriage rituals done between the two.
That's how the couple tied the knot with each other. When the girl was leaving, the police bid farewell to them and gave Rs 500 along with five utensils as a Shagun (gift) to the newlyweds.