Lionel Messi scripts history, shatters multiple FIFA WC records with the opening goal from the spot in the Finals
Surpassing his country's top records, Lionel Messi also better Lothar Matthaus' record of most appearances in the FIFA WC history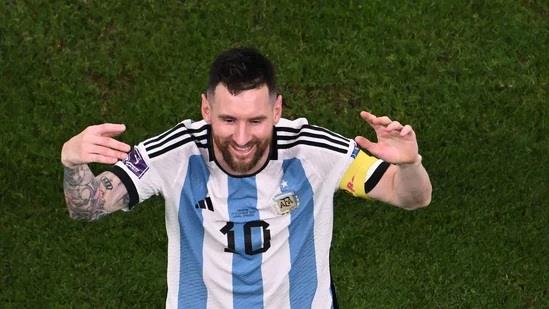 -

Leading two-time FIFA WC champion Argentina into the Final of the FIFA World Cup 2022 in Qatar, the game's one of all-time great Lionel Messi has shattered a huge record previously held by the German legend Lothar Matthaus in the elite list.

By featuring in the Finals Messi became the most-capped player in the history of the FIFA World Cup with a total of 26 appearances, taking him on top of the chart of the players who have played most games in the history of the showpiece event.

Rewriting history in the 2022 edition of the FIFA World Cup, the seven-time Ballon d'Or winner recently shattered Gabriel Batistuta's record in the semi-final stage of the prestigious event.

Messi was on target for the two-time champions in Argentina's 3-0 win over Croatia in the FIFA World Cup semi-finals. The 35-year-old eclipsed Batistuta by scoring his 11th goal for Argentina at the FIFA World Cup. The charismatic leader now holds the record for most goals (11) scored by an Argentina player at the FIFA World Cup.

"FIFA World Cup 2022 is rigged" Netizens outraged on Twitter over penalty decision in Finals for Argentina

Over to that Messi now also holds the record for playing the most minutes in the history of the game, he surpassed the Italian legendary defender Paolo Maldini, who appeared for 2,217 minutes at the FIFA World Cup. Messi created history by going past Maldini in the first half of the FIFA World Cup 2022 final. Since his debut at the grandest stage in 2006, Messi has recorded 19 appearances as captain in the FIFA World Cup.

The record goal-scorer of the South American giants is followed by Rafa Marquez (17) and Diego Maradona (16). Messi is the only player to record an assist in five editions of the World Cup. The Argentina captain became the highest goal scorer at the Qatar World Cup when he scored his 6th goal to give his side an early lead in the final.

With this Messi also became the first player in history to have a goal on his name at every stage of the tournament's single edition. Messi-led Argentina walked in as the favorite to lift the WC and is perfectly on the trot to bring the much-needed trophy that Messi needs and his million other fans need for him.