Published On
Liverpool vs Real Madrid ; A quick summary of what happened in Real Madrid's astonishing come back win
In a thrilling encounter, Real Madrid school Liverpool to win the first leg . Author :
Tushar Singh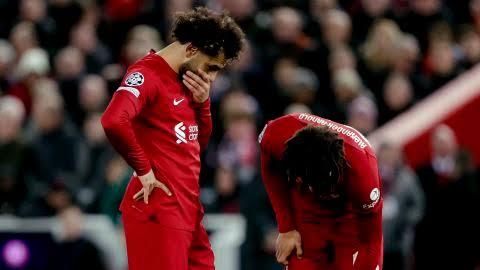 On 22 February 2023 (IST), football fans around the world were treated to a thrilling Round of 16, the first leg match between Liverpool and Real Madrid in the UEFA Champions League. The match took place at Anfield, and it was an action-packed encounter that saw Real Madrid come back from being 2-0 down to win 5-2.
The match started with Liverpool looking like the stronger side, and it didn't take long for them to take the lead. Darwin Nunez scored the first goal of the game, putting Liverpool ahead in just the 4th minute. Then soon after that Mohamed Salah scored for Liverpool after the Real Madrid goalkeeper, Thibaut Courtois, committed a costly error.
Liverpool was looking to run away with the win but Real Madrid quickly responded, with Vinicius Jr scoring in the 21st minute. He cut in from the left and unleashed a powerful shot from near the edge of the box. Just fifteen minutes later, Vinicius Jr scored his second goal of the game making the game level , taking advantage of another error by the Liverpool goalkeeper, Alisson.
DNA World Tour: Backstreet Boys India concert date, venue, ticket price & everything you need to know
Real Madrid continued to dominate, in the second half, and in the 47th minute, Eder Militao scored off a header from a free kick by Luka Modric. Liverpool tried to mount a comeback, but Real Madrid's defense held strong. In the 55th minute, Karim Benzema scored his first goal of the game, making it 4-2 in favor of Real Madrid. He scored again in the 67th minute, sealing the victory for Real Madrid with a 5-2 scoreline.
The match was a stunning comeback for Real Madrid, who showed their resilience and quality against a strong Liverpool side. The two teams will face off again in the second leg on March 16, 2023 (IST). Liverpool will need to mount an impressive comeback if they hope to advance to the quarter-finals of the UEFA Champions League.