LPU Boxers (Men) declared Champions at Khelo India University Games in Bangalore
LPU team of boxers stood top with 3 Gold & 2 Silver Medals; the National-level tournament will run till May 3, 2022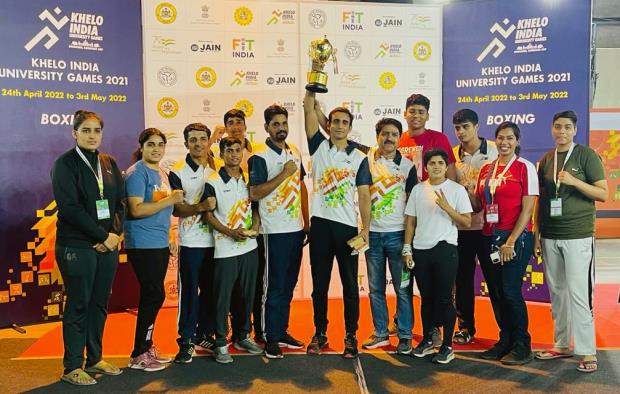 -

The boxing (men) team of Lovely Professional University (LPU) is declared Champion at national Khelo India University Games (KIUG-2021). LPU team has topped the winning podium with 3 Gold & 2 Silver Medals. LPU boxers Gopi, Abhinash and Sagar have won gold medals in 46-48 Kg, 63.5-67 Kg, and 67-71 Kg weight categories; whereas, Ashutosh and Anmol have won silver medals in 60-63 Kg and 86-92 Kg weight categories respectively.

LPU students win against Olympians as well. The games also saw some exciting shows in shooting and archery, where LPU student Sartaz Singh Tiwana beat Olympian Aishwarya Partap Singh Tomar of GNDU Amritsar in the final of the 50 m three-position competition to win Gold medal. Up to now LPU has won 20 medals overall.


LPU Pro Chancellor Mrs Rashmi Mittal has congratulated the winner-boxers and their mentors at LPU. Mrs Mittal also wished them to the Olympics after participating and winning at 'World University games'.

Khelo India University Games (KUGI) 2021 is being held in Bengaluru across 20 sporting disciplines. The National-level tournament will run till May 3, 2022, where LPU is also anticipating to get declared on one of the top positions, in the overall medal tally of the games.

Winner boxers shared unanimously that "right from the beginning they had planned for the attack and lay the opponents wonder-struck. This approach proved beneficial to all of us. In fact, when one enters the ring only the target invites the boxer to box him/her down within the stipulated rounds. So, we did and won."

Also read: IPL 2022: Kohli, Patidar fifties help Royal Challengers post 170/6 against Gujarat Titans (Ld)

The 'Khelo India' initiative of the Government of India aims to promote grassroots sports, and identify young talent from all across the country. Its first-ever edition was held in Odisha, in 2020. Presently, the rescheduled event of KIUG-2021 (postponed due to COVID) is being held across different venues in Bengaluru (Karnataka) this year-2022.

This event is an inter-university meet where 3,800 participants representing 189 universities of the country are participating across 20 sporting disciplines in 275 different medal events. Many of the top Indian athletes, including several Olympians, are also competing at the games.