Published On
Luis Rubiales Video: What did Jenni Hermoso say on Spanish FA chief's 'Forceful Kiss' post FIFA WC win?
Luis Rubiales' kiss video grabbed the global headlines, therefore FIFA also took the matter's cognizance and opened a disciplinary investigation against the Spanish FA Chief that took place after the Women's World Cup 2023. Author :
Malkit Singh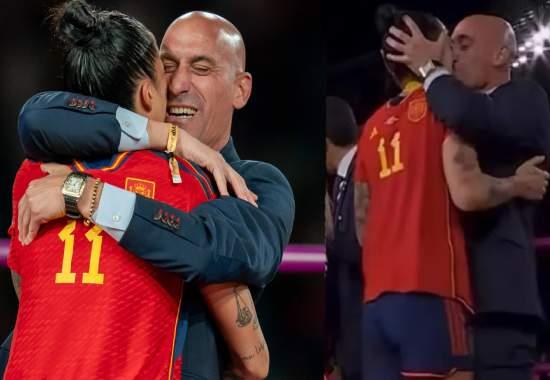 Spanish Women's Football Team scripted history recently after they won the first ever FIFA Woman's Football World Cup 2023 for the first time in their history after they defeated England by 1-0 in the final. Entire Spain erupted in celebration after Spain vs. England ended up in a historic win for the Spanish fans. Spanish FA president Luis Rubiales, fans, and even Spain's players were on the seventh sky after they won the historic title. However, the triumph soon turned into turmoil when Spanish FA president Luis Rubiales could not control his excitement and went on 'forcibly kiss' a Spain player Jenni Hermoso. As soon as the incident was live telecasted, Luis Rubiales video went viral in no time. In fact, Luis Rubiales kiss video is spreading like wildfire and getting strong reactions from around the world. Fans were quick to point out how Luis Rubiales kiss video is a disgrace as the player in the controversy seemed uncomfortable.
Notably, Luis Rubiales' kiss video grabbed the global headlines, and therefore FIFA also took the matter's cognizance and opened a disciplinary investigation against the Spanish FA Chief. As a result, an extraordinary general assembly called by the Royal Spanish Football Federation (RFEF), and it was expected that Luis Rubiales will resign from his post. However, Luis Rubiales took a U-turn and stated that his kiss with Jenni Hermoso was totally 'consensual' and the 'manhunt' against him should stop.
Here's what Luis Rubiales said-
During the press conference, Luis Rubiales said, "It was a spontaneous kiss. Mutual, euphoric and consensual. That's the key. A consensual 'peck' is enough to get me out of here?" After the Spanish FA Chief stated that his kiss with Jenni Hermoso was consensual, a statement from the Spanish footballer has since been released by players' union Futpro, where she denies any consent to the kiss and labels the FA chief's words as "categorically false" and part of a "manipulative culture". On Luis Rubiales Jenni Hermoso Kiss Video, the Spainish footballer in her detailed statement said-
"After achieving one of the most desired successes of my sports career and after a few days of reflection, I want to wholeheartedly thank my teammates, fans, followers, the media and all of you who have made this dream come true...Your work and unconditional support have been a fundamental part of winning the World Cup...In reference to what happened today. Although it is true that for my part I do not want to interfere with the multiple legal processes in progress, I feel compelled to denounce that the words of Mr Luis Rubiales explaining the unfortunate accident are categorically false and part of the manipulative culture that he himself has generated...I clarify that at no time did the conversation to which Mr Luis Rubiales referred to take place and that, far from it, his kiss was consented...In the same way I want to reiterate as I did at the time that this fact had not been to my liking."
Official Announcement. August 25th,2023. pic.twitter.com/lQb18IGsk2

— Jenn1 Hermos0 (@Jennihermoso) August 25, 2023
Also Read: Bray Wyatt Death Reason: What happened to WWE Superstar Windham Rotunda?
Watch Luis Rubiales' viral video
They should have stopped him at that time immediately.... pic.twitter.com/EZJnvAZOhp

— Jo Kar (@i_am_gustakh) August 25, 2023
After Luis Rubiales refused to step down from the Spanish FA Chief post, 81 footballers of the country quit their international football careers. This includes Spanish Men's National Team Striker Borja Iglesias Borja Iglesias wrote on Twitter: "I am sad and disappointed...As a footballer and as a person I don't feel represented by what happened today in the Ciudad del Fútbol de Las Rozas. I find it unfortunate that they continue to press and focus on a colleague...Wearing the Spanish national team shirt is one of the greatest things that has happened to me in my career..I don't know if at some point I will be an option again, but I have made the decision not to return to the national team until things change and this type of act does not go unpunished."