Published On
Meet 'La'eeb', The official mascot of the 2022 FIFA World Cup in Qatar
La'eeb was unveiled by FIFA along with the adventure, fun, and curiosity that it beholds on April 1 earlier this year in Doha following a tradition that was initiated in England back in 1966
Author :
Tushar Singh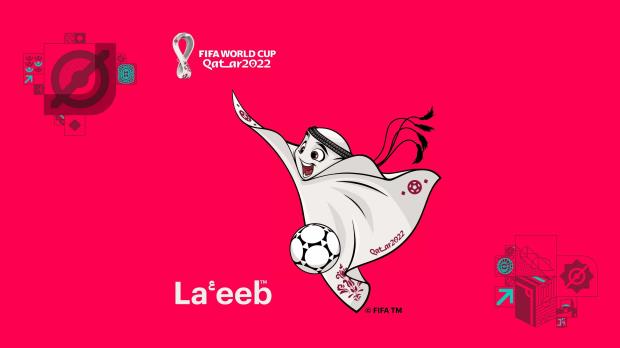 As we head into the week of the FIFA World Cup in Qatar the enthusiasm and thrill of the world's biggest sporting event are gearing up to their best.
And besides fans around the globe, La'eeb is also bracing up to welcome fans coming to cheer their team up in history's first-ever world cup in the middle-east.
La'eeb is the mascot for the 2022 FIFA World Cup in Qatar and is inspired by the Keffiyeh, a traditional headdress worn by Arab men. The meaning of word La'eeb means a super-skilled player in Arabic, which stands in anticipation of the hundreds of footballers who will be coming to Qatar to put up their best show for their country.
La'eeb was unveiled by FIFA along with the adventure, fun, and curiosity that it beholds on April 1 earlier this year in Doha following a tradition that was initiated in England back in 1966.
During the ceremony, an animated video was presented to the world which said La'eeb's story to millions of football fans. The mascot was flying through the air as the story's narration remained in the background.
Shaheen Afridi's Injury, a turning point in the Final, fans storms Twitter after Pakistan lost to England
Welcome Laeeb, the official @FIFAWorldCup #Qatar2022 mascot! Follow his journey from the mascotverse to FIFA World Cup final! #Laeeb pic.twitter.com/fVMe9MCO5w

— Road to 2022 (@roadto2022en) April 1, 2022
FIFA's governing body mascot said "La'eeb will be known for his youthful spirit spreading joy and confidence everywhere he goes. La'eeb comes from a parallel world where tournament mascots live. It is a world where ideas and creativity form the basis of characters that live in the minds of everyone."
During the entire course of the game starting November 20th, La'eeb will be seen everywhere, entertaining and welcoming fans, players, and other dignitaries besides entertaining them and cheering them all throughout the campaign and will certainly hold a key attraction among others.
Many fans have marked the presence of apostrophes in La'eeb, which is common while translating Arabic into the Roman alphabet. However, because glottal stops aren't typically marked in English, you may also see the apostrophe dropped, and La'eeb referred to as Laeeb.