Mercedes-AMG G 63 Grand Edition: More than just a price tag
Explore the exclusive Mercedes-AMG G 63 Grand Edition, where luxury meets rarity. Discover its unique features and why it's more than just a price tag.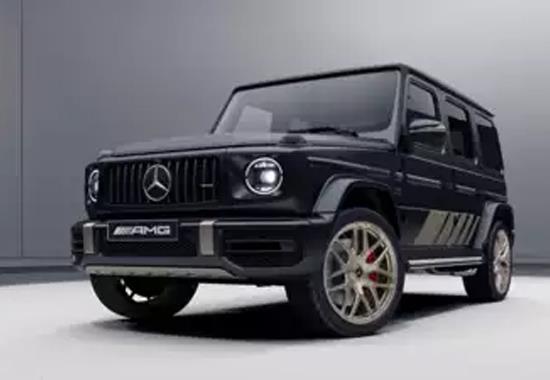 -

The Mercedes-AMG G 63 'Grand Edition' has taken the Indian automotive scene by storm with its astounding price tag of Rs 4 crore. However, there's more to this luxury SUV than just its cost. In this article, we delve deep into the exclusivity, design, customization options, and performance of this limited-run marvel.

The exclusivity factor:

The 'Grand Edition' is a rare gem, with only 25 units available in the Indian market. But the exclusivity doesn't stop there; it's reserved solely for existing Mercedes-Maybach, Mercedes-AMG, and S-Class customers. Find out what makes this SUV an exclusive masterpiece.

Design and styling:

The Grand Edition's design is a tribute to its lineage, harking back to the first-ever G model from 1979. Explore the unique Kalahari Gold Magno shade, the AMG logo, and the Night Black Magno finish with gold-colored details that create a striking visual contrast.

Interior elegance:

Step inside the 'Grand Edition' to discover the captivating contrast of black and gold. The interior boasts G Manufaktur black nappa leather seats with exquisite gold stitching and gold AMG logo plaques on the backrests. The illuminated "AMG" emblem on the door sill trims adds a touch of opulence.

Also Read: Ghostly footage: Dumbo Octopus spotted at astounding Depth of 8,000 feet under the Ocean; Watch

Customization options:

While the Grand Edition comes with a fixed configuration, Mercedes-Benz offers a few customizable options to cater to individual preferences. Learn how you can personalize your luxury SUV to match your style.

Power and performance:

Under the hood, the Grand Edition is powered by a formidable 4.0-liter twin-turbocharged V8 engine, generating 577 horsepower and 850 Nm of peak torque. Standard all-wheel drive ensures exceptional performance, with a 0 to 100 kmph sprint time of just 4.5 seconds and a top speed of 220 kmph.

Conclusion:

The Mercedes-AMG G 63 'Grand Edition' is more than just a luxury SUV; it's an embodiment of exclusivity, style, and power. If you're seeking a vehicle that defines rarity and performance, this limited-run masterpiece deserves your attention. Experience the extraordinary, where the price tag is just the beginning of the journey.