Met Gala 2023 guests list: Priyanka Chopra to Roger Federer, list of confirmed attendees
The 2023 Met Gala will go underway on May 1, 2023, with the theme of "Karl Lagerfeld: A Line of Beauty"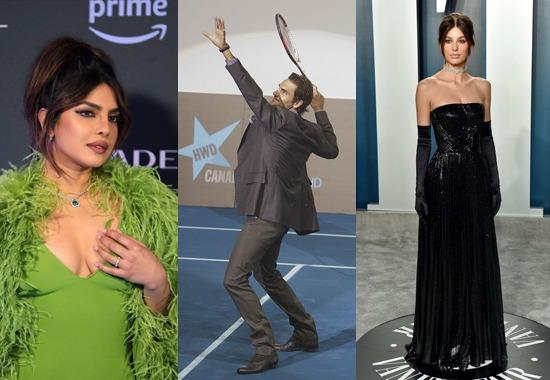 -

The countdown for the Met Gala 2023 has begun and celebrities from all around the world are in their final stages of preparation. Many Hollywood celebs are indeed teasing their fans about what they will be wearing at the 2023 Met Gala. Met Gala 2023, the annual biggest of fashion, will go underway at the Metropolitan Museum of Art. This year Met Gala is hosted by 5 prominent personalities including- Grammy-award-winning singer Dua Lipa, Tennis legend Roger Federer, Oscar-winning actress Penelope Cruz, Emmy-award winning writer Michaela Coel and last but not least Vogue's Anna Wintour. The 2023 Met Gala will go underway on May 1, 2023, with the theme of "Karl Lagerfeld: A Line of Beauty". Met Gala 2023 Theme will celebrate the full work and life of Karl Lagerfeld. It means Met Gala 2023 dress code is, fittingly, "in honor of Karl." Notably, Met Gala is called the biggest annual fashion night and celebrities from all around the world grace the red carpet in their best attire. Celebs' attire at the Met Gala often becomes the talk of the town. Whether it is Kim Kardashian's attempt to wear Marilyn Monroe's iconic dress which later she damaged or Blake Lively's 2022 look which turned out to be one of the greatest of all time, the Met Gala indeed brings some spice to fashion. Now, coming to the 2023 Met Gala Confirmed guests list, below is the list of celebs who will be attending the event-

Priyanka Chopra

Bollywood actress who recently made her Digital debut with a spy thriller Citadel confirmed that she will be attending the upcoming 2023 Met Gala. Hollywood's veteran journalist Marc Malkin confined the report of Priyanka Chopra's arrival at the Met Gala 2023. He took to his Twitter and wrote, " @priyankachopra just told me she will be at the #MetGala on Monday. Says her look 'will be on theme' because she loves a theme but it will also have a 'special element'." Notably, it is not the first time, Priyanka will be attending the Met Gala.. In 2017, Priyanka Chopra attended the event and in 2019 she attended the event with her husband Nick Jonas. It is pertinent to mention here that although Priyanka Chopra has won the hearts of many through her red carpet looks, in 2019 her look became a meme material for fans on social media.
priyanka chopra's 2019 met gala look. that's the tweet. pic.twitter.com/J837Z8xmQP

— tommy shelby apologist (@SADHEXGIRL) May 7, 2019
Alia Bhatt
Bollywood actress Alia Bhatt who was recently seen in RRR will make her Met Gala Debut on Monday. As per reports, Alia Bhatt will be wearing a Prabal Gurung outfit and has been spotted by the paparazzi at the airport while leaving for the major event. Notably, Alia recently won Filmfare Awards 2023 for best actress for her brilliant performance in the movie Gangubai Kathiawadi directed by Sanjay Leela Bhansali.
Roger Federer
Being one of the five hosts, Tennis great Roger Federer will also be seen gracing the 2023 Met Gala Red Carpet. Last year, Federer announced his retirement from Tennis. Federer partnered with his old rival Rafael Nadal in doubles at the fifth edition of the Laver Cup.
Getting Met Gala ready 😎😤 #NewYork pic.twitter.com/bZTREmGmD7

— Roger Federer (@rogerfederer) April 26, 2023
Emily Ratajkowski
Gone Girl fame actress Emily Ratajkowski who is breaking the internet ever since her video of making out with Harry Styles in Japan's parking lot went viral. Notably, Emily Ratajkowski who is considered among the most stylist actress of Hollywood is expected to attend the 2023 Met Gala as well.
emily ratajkowski looking ethereal at the met gala pic.twitter.com/M49Pn0GXXs

— 𓂋 ⋆ ˚ (@cuntvenchy) May 7, 2019
Kim Kardashian
Reality TV star Kim Kardashian will be attending the Met Gala 2023. Yes! you heard it right. After stoking controversy for wearing Marilyn Monroe's legendary dress and damaging it, the reality TV star will be making her comeback at the annual biggest fashion night of the year.
Met Gala 2023 date, time, streaming, theme, guests list & everything you need to know
The Met Gala is only a few days away now!

How will #KimKardashian top last year's Marilyn Monroe dress?! #fashion #MetGala2023 pic.twitter.com/YuefZEzvO3

— PeopleWorld (@PeopleWorld_1) April 25, 2023
Camila Morrone
Model and actress Camila Morrone is also expected to attend the Met Gala 2023. After moving on from Leonardo DiCaprio after a breakup, Camila Morrone is expected to serve som major fashion goals in the upcoming fashion extravaganza.
Camila Morrone at the 2019 Met Gala celebrating camp: notes on fashion! ✨🫶🏻 pic.twitter.com/KLnCD3lxJg

— Bea (@satvcnn) April 24, 2023
Met Gala 2023 Confirmed Guests List-
-Kim Kardashian
- Paris Hilton
- Florence Pugh w/Valentino
- Priyanka Chopra
- Camila Morrone
- Megan Thee Stallion
- Kristen Stewart
- Elle Fanning
- Kaia Gerber
- Kendall Jenner
What is Met Gala?
The Met Gala started in 1948 as a society midnight supper, and wasn't even at the Met. Ever since then, the Met Gala event has bcecome one of the most photographed events in the world for its head-spinning red carpet.