Published On
'Money Heist Season 5' Full of action: Premiere Date, Cast, Recaps- All you need to know about
Alex Pina, the show's creator, says that this season will be the most "dramatic and thrilling" ever.
Author :
Sheetal J Bhalla
Money Heist is one of the most eagerly anticipated TV series sequels of all time.It is one of our favourite Netflix Spanish-language programmes, La Casa de Papel. We are all delighted to learn that Money Heist season 5 is going to premiere on Sep 3, 2021. Volume 1 and Volume 2 are two parts of Money Heist Season 5. The fifth season of Money Heist will be the final instalment, with no further episodes planned
Money Heist Season 5 Premiere date
Money Heist will launch on Netflix as usual, and the 5th season's release date has been set. We've found information at different times, as when Netflix revealed that Money Heist season 5 will be published in the fourth quarter of 2021. The end of La Casa de Papel is approaching—but first, enjoy the build-up. The final ten episodes of the season will be split into two parts. The first five episodes will be available on Netflix on September 3, followed by the second batch on December 3.
Also Read: Jaipur firm announces holiday for staff to watch Money Heist, stating "break to banta hai"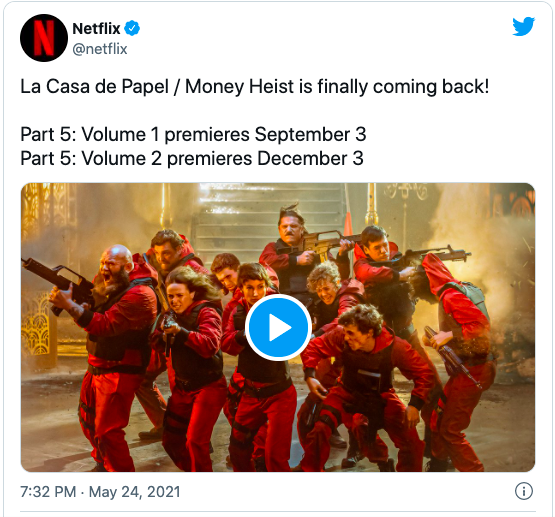 Money Heist Season 5 Volume 1
Season 5 will be released in two volumes, as we have learned. The Money Heist Season 5 volume 1 will be released on September 3rd, 2021. The trailer itself revealed the dates. The release date for volume 1 is planned for September 3rd, 2021, according to the Money Heist Season 5 teaser.
Money Heist Season 5 Volume 2
Money Heist Season 5 volume 2 will be released on December 3rd, 2021, according to the latest trailer. Netflix confirmed the news with a tweet and a teaser on their official Twitter account. In the first volume, there may be some important suspense that will be revealed in the second volume.
Also Read:
Money Heist 5: Netflix announces release date with a heart-thumping teaser
Money Heist Season 5 Trailer
The final season
trailer was released on both YouTube
and
Netflix's official social media accounts
. We've added Netflix's tweet, which includes the Season 5 trailer as well as the release dates for Volumes 1 and 2.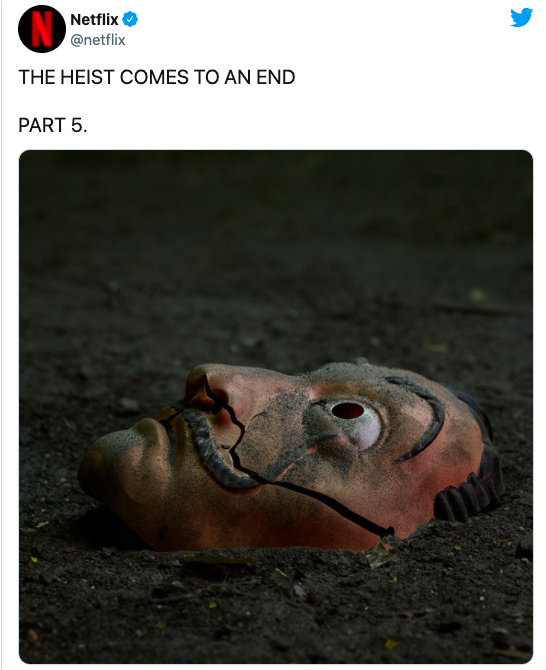 Money Heist 5 'Full of action'
"War" and full of action is promised in the synopsis, and the trailer confirms this. Season 5 of La Casa de Papel appears to be more action-oriented than the previous seasons.
Also Read:
Viral: Virat Kohli's new Quarantine look is resembling professor in 'Money Heist'
The Professor (lvaro Morte) recounts what may be his farewell message to the group in the trailer. If you recall, Inspector Alicia Sierra (Najwa Nimri) captured him in the season 4 finale, and in the season 5 teaser, she seems to shove him off a tall platform.
Meanwhile, the crooks have been imprisoned inside the bank for 100 hours and have lost contact with their commander. Colonel Tamayo and his soldiers are going to enter the Bank of Spain, despite their debilitated position. Raquel (Itziar Ituo) appears to be in charge of the crew's final assault effort. "We're up against the ropes," she says, "but we're not going to wind up in the morgue." What are they supposed to do next if they don't have a plan?
Money Heist Season 5- Cast
The familiar suspects will almost certainly return. Members of the Professor's crew who are in Money Heist- Úrsula Corberó (Tokio), Jaime Lorente Lopez (Denver), Pedro Alonso (Berlin), Miguel Herrán (Rio), Darko Peric (Helsinki), Itziar Ituño (Raquel), and Esther Acebo (Monica). Recently, Rodrigo de la Serna (Palermo) and Luka Peros (Marsella) have joined the team. Alba Flores (Nairobi) may return in flashback form.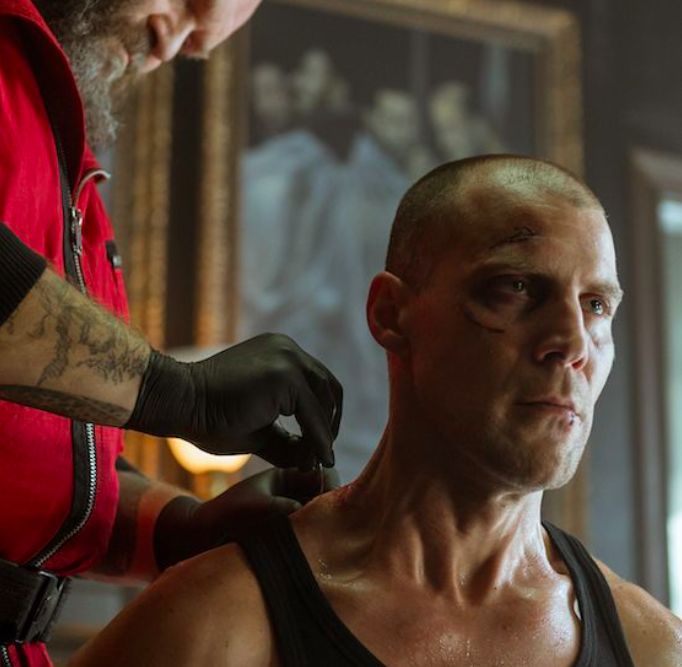 Money Heist Season 4 - Recap: 'Ends on quite a cliffhanger'
Lisbon is reunited with the team in the last episode of La Casa de Papel's fourth season. They all manage to flee the Bank of Spain thanks to the Professor's deft manoeuvring. However, Alicia's triumph is shattered when she shows up at the Professor's private hideaway. She is pointing a pistol towards his head. However, the situation is exacerbated by the fact that Alicia is now in legal jeopardy. Will Alicia reveal the Professor's true identity? Could they...team up now that she's a fugitive as well? Stranger things have occurred in the past.