NFL vs NBA: What the USA love more? NFL vs NBA viewership, revenue compared
Although the debate NFL and NBA often remain inconclusive, True Scoop News brings you NFL vs NBA viewership numbers among others which might help you reach a conclusion.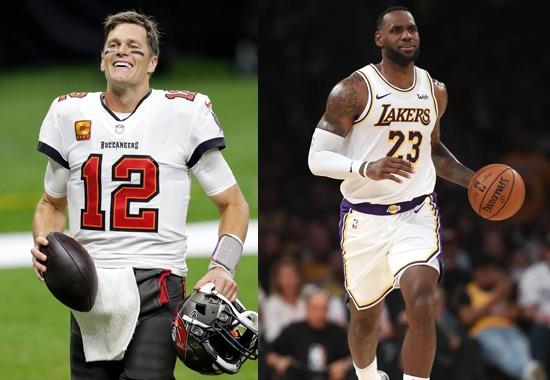 -

National Football League (NFL) and National Basketball Association (NBA) are undoubtedly among the most watched and followed leagues around the world which originated in America. And this is the reason why sports enthusiasts and fans often indulge in
NBA vs NFL
debates. Although
NBA vs NFL
debate is everlasting, for people who don't follow American sports- NFL is all about American football, while NBA is about the basketball the Americans are crazy about. Almost every day, NBA and NFL break the internet and therefore it is quite common for fans and experts that there is a burning discussion goes on
NFL vs NBA.
Due to the increasing revenue numbers and viewership records in the past few years, NFL vs NBA writeups attract millions of American sports fans. While NBA NFL are among the richest leagues in the world, viewership and fans attending the matches are also in the thousands and millions. Not only this, veteran sportspersons like Tom Brady of the NFL or LeBron James from the NBA, players are millionaires and billionaires and they are widely followed around the world. Keeping sports (NBA NFL) aside, players who have achieved success in such leagues also go to Hollywood. While some start producing movies, some also enjoy royalties if any movie is made upon their life.
For instance, Ben Affleck donned his directorial hat once again and made a movie titled- Air which was based on the groundbreaking deal of Nike with 'rookie' Michael Jordan. Another example is Tom Brady recently invested his money in the movie titled 80 for Brady which was based on his real-life octogenarian fans.
It was released during the 2023 Super Bowl. Although comparing NFL and NBA is like comparing apple and mango meaning both are different sports, fans often indulge in non-ending NFL and NBA debate. Therefore in order to settle the burning debate, True Scoop News brings you
NBA vs NFL viewership
numbers or NFL vs NBA viewership numbers along with revenues, which might help you settle the burning debate based on facts.
NBA vs NFL
: Revenue Numbers
While comparing NFL vs NBA is indeed comparing Apple vs Mango, both are different, still the league's wealth and fan following have started the debate. Therefore, let's talk about the NFL vs NBA revenue first.
As per a 2022 report from an American media portal, NFL in 2021 made $14 billion in total revenue, which was over $900 million more than they made the season before and a $6 billion increase from 2010.
On the other hand, the NBA, made $7.4 billion in revenue in 2021, up 25% from the prior season when they made a total of $5.94 billion. Therefore, if compared to their revenues for 2022, NFL is better than NBA. However, there are a few points that should kept in consideration-
NFL Teams have more than 50 players, on the other hand, an NBA team has only 12 to 15 players. However, the NBA Teams play a staggering 82 games in a regular season on the other hand, NFL teams only play 16 games.
American football players collide or push each other in order to keep their team at the winning course and therefore in doing so they might get seriously injured. On the other hand, NBA players try to avoid physical contact.
The NFL concludes with one major event named the Super Bowl, on the other hand, the NBA finale ends with the best-out-of-seven-games tournament.
Steve Kerr > Michael Jordan

In terms of revenue generated for the NBA https://t.co/GDqtwoq0uc

— SOUNDGOD ™ (@djdreas_na) May 1, 2023
Coming back to revenue, showcasing and streaming advertisements during the Super Bowl Event costs a fortune. However, companies and firms all around still pay as the viewership of the Super Bowl remains massive.
Therefore, the revenues from advertisements during the Super Bowl also add up. As per Wall Street Journal report, during the 2022 Super Bowl, a few advertisers shelled out $7 million, the average price for a spot in the game is more than $6 million.
As per a report, the NFL Sponsorship revenue reached $1.32 billion in the 2017-18 season with beer, truck, fast food chain companies being the largest spenders.
On the other hand, in the same year, the NBA sponsorship revenue was registered at $1.12 billion with insurance, fast-food, and medical retain brands being the largest spenders.
NFL vs NBA: Viewership Numbers
Basketball fans you might feel sad, as the NFL easily defeats the NBA in terms of viewership despite the fact that the American Football team has fewer matches as compared to the NBA teams.
As per a report published in January this year which quoted Nielsen live-plus-same-day data, the NFL's three-game set averaged 21.9 million viewers, eclipsing the NBA's 4.34 million tally.
Furthermore, the NFL's leadoff game became the most watched and popular, as ratings for the subsequent late-afternoon and primetime windows were tremendous.
The report had suggested that on CBS/Nickelodeon, the Rams' 51-14 crushing of the Broncos averaged 22.6 million viewers, opposite Disney's Bucks-Celtics game (6.08 million).
Therefore, in terms of viewership numbers, it can be said that NFL is better than NBA.
🚨2023 @NFLDraft Viewership🚨

*Total unduplicated audience of 54.4 million viewers for 3-day event

*6.0 million viewers (TV+Digital) over 3 days across all networks & digital channels

*Each day up in AMA vs. 2022

*312K fans attended in KC

Release: https://t.co/U0vA85sII9 pic.twitter.com/lH2r3xV6d7

— NFL Media (@NFLMedia) May 1, 2023
Game 7 between the Warriors and Kings averaged 9.8 million viewers on ABC.

That makes it the most-watched NBA Playoffs 1st round game in 24 years.

Curry has also played in all 27 NBA games since 2015 that have drawn over 14 million viewers.

The Steph effect is real. pic.twitter.com/goSPIoTGT2

— Joe Pompliano (@JoePompliano) May 2, 2023
NFL vs NBA; Richest Sportspersons comparison
Roger Staubach: $600 Million
Talking about the richest NFL players, number 2 is Tom Brady, while Number is veteran Roger Staubach with a net worth of $600 Million.
Although Roger Staubach is now retired from the NFL, his post-retirement earning indeed makes him the richest NFL sportsperson.
For the unversed, Roger Staubach was the quarterback of the Dallas Cowboys in the 1970s. Notably, Roger founded his own real estate company late in his playing career and then he sold it for more than $600 million in 2008.
NFL Draft 1964, Round 10
129. DAL, Roger Staubach QB NAVY

AFL Draft 1964, Round 16
122. KC pic.twitter.com/yHstyn6Vi6

— Michael Watts (@mjwatts1983) April 26, 2023
Michael Jordan - $1.7 billion
Despite NFL viewership, earnings and revenues being greater than NFL, NBA players are indeed wealthier as compared to NFL players.
And on the top of the list is none other than the GOAT of basketball Michael Jordan. Jordan's net worth $1.7 billion and his earnings seem to be increasing day by day as even after his playing days, he has turned into a businessman.
And this is the reason why Jordan is the richest basketball player even though his playing days are over.
As mentioned above about the movie Air, Jordan got most of his wealth from endorsement deals with his primary sponsor, 'Nike.'
In 1988, Michael Jordan collected EVERY major individual award in the #NBA

MVP
Defensive Player of the Year
All-NBA 1st Team
All-Star Starter
All-Star MVP
Slam Dunk Champion
Scoring Leader (35 ppg)
Steals Leader

He didn't miss a single game for the #Bulls pic.twitter.com/eY5tGqphlf

— Die-Hard Chicago Bulls Fans (@DieHardCBfans) April 30, 2023