Published On
Super Bowl 2023 2nd quarter: Cara Delevingne strips T-shirt in stands for 'Rihanna Concert; Fans react
Cara Delevingne made it crystal clear that she came to the State Farm Stadium in Glendale, Arizona, just for the Rihanna concert. Author :
Ujjwal Samrat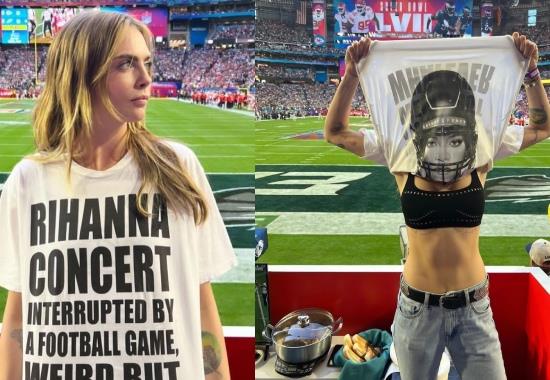 Hollywood stars are making it clear that they have attended the Super Bowl 2023 Eagles vs Chiefs just to support their buddy Rihanna. Rihanna will be performing at the Super Bowl 2023 and it will be her first performance after 7 years. To express her supper, Hollywood actress Cara Delevingne took it to another level. Cara Delevingne made it crystal clear that she came to the State Farm Stadium in Glendale, Arizona, just for the Rihanna concert. Cara was snapped wearing a T-shirt that said-
"Rihanna concert interrupted by a football game, weird but whatever"
However, Cara took it to an extreme level when she stripped her T-shirt for a while to flaunt Rihanna's pictures inside her T-shirt.
Fans react to Cara Delevingne at Super Bowl 2023
Cara Delevingne at the Super Bowl supporting Rihanna 🚨 pic.twitter.com/VtvfqqdIjC

— RihannasNavy (@RihannasNavy01) February 13, 2023
Cuantos identificados con #CaraDelevingne en este #SuperBowl #SuperBowl2023
-" el concierto de #Rihanna
Interrumpido por juego de #fútbol " pic.twitter.com/W0m2AaAP66

— Katiuska (@Katiiuska08) February 13, 2023
Cara Delevingne, Lebron James, Bradley Cooper, and H.E.R are also at the #SuperBowl ahead of Rihanna's performance #Fentybowl pic.twitter.com/acSaxVSRO3

— allure #Fentybowl (@allurequinn) February 13, 2023
Super Bowl 2023 2nd quarter-
As soon as the second quarter started, Hurts found Brown in the end zone and it turned into a 45-yard touchdown catch. The extra point was also given. The Eagles doubled up on the Chiefs and the score went from 7-7 to 7-14 in favour of the Eagles. However, the Chiefs soon made a comeback as Gainwell picked up nine yards and brought Philadelphia into Kansas City territory. On 2nd and 1, Gainwell gets stuffed. On 3rd and 1, the Eagles get hit with a false start. On 3rd and 5… the ball came loose. Hurt dropped it. Nick Bolton carried it into the end zone for a Chiefs touchdown. The extra point is good and this game was tied up.
2023 Super Bowl KC vs PHI: Pop star Adele sends fans into a frenzy at State Farm Stadium; watch
Coming to Eagles vs Chiefs, the first quarter witnessed some intense battles. Kelce opened in the middle of the field yet again. Chiefs went to work on those safeties and linebackers. Andy Reid swiftly sending the field-goal team onto the field here is an interesting decision. It's fourth-and-3, and Butker had the worst season of his career, accuracy-wise, this year. Now, coming to points. Hurts went with the old-fashioned quarterback sneak to get into the end zone and Jake Elliott's extra-point attempt is good. Philadelphia instantly took a seven-point lead. However, in no time, Pacheco took off for a 24-yard gain and the Chiefs, in a blink, are already at the Philadelphia 20. We might be in for a high-scoring game here. On the next play, Pacheco picks up an additional two yards. On the very next play, Mahomes finds Kelce. One successful PAT later and we're already tied up.
The much-awaited Super Bowl 2023 finally kickstarted with Philadelphia Eagles and Kansas City Chiefs locking horns at the State Farm Stadium in Glendale, Arizona, for the ultimate Lombardi Trophy as the NFL decides its champion for the 2022-23 season. For the unversed, the NFC and AFC champions, the Eagles and Chiefs (respectively) entered the playoffs as the No. 1 seeds in their conferences, but their paths to this point were quite different. Philadelphia won its two playoff games by a combined 69-14 score, dispatching the division rival New York Giants and the quarterback-less San Francisco 49ers with relative ease. The Chiefs played a pair of more hotly contested games, defeating the Jacksonville Jaguars and defending AFC champion Cincinnati Bengals by a combined 10 points.