Published On
'The D'Amelio Family': TikTok's first family is now streaming; Let's see how fans reacted
Dixie D'Amelio said in an interview, "We all feel like it's essential for people to witness what it was like when the phones were switched off." TikTok's first family has landed on Hulu.
Author :
Sheetal J Bhalla
"The D'Amelio Family," a new series from the streaming service, premiered on Friday. It follows TikTok influencer siblings Charli, 17, and Dixie, 20, as well as their parents, Marc and Heidi D'Amelio, as they negotiate social media success.
The show is the family's first foray into a more traditional medium television.

The D'Amelios said they're thrilled to explore a more traditional entertainment medium after utilising their phones and social media to communicate with their fans — a move that a handful of other influencers have taken with limited success in the past.
"We haven't had the proper place to say these things in the way we want to say them — whether it's how we're actually dealing with this all mentally or topics on how we feel we've been treated by the internet," Charli, who has over 123 million followers on TikTok, told NBC News ahead of the show's release. "I believe they are the kinds of things they want to hear."
Also Read:
SHOCKING: Britney Spears' new documentary reveals that her calls and texts were monitored
In late 2019, Charli started her journey to influencer superstardom on TikTok, where she gained popularity by executing dance trends. Dixie's celebrity — and fan base — grew quickly after that.
"We were uploading videos on YouTube. People didn't even hear our voice for a long time "Dixie said. "It's essential for people to witness what it was like when the phones were switched off," she said.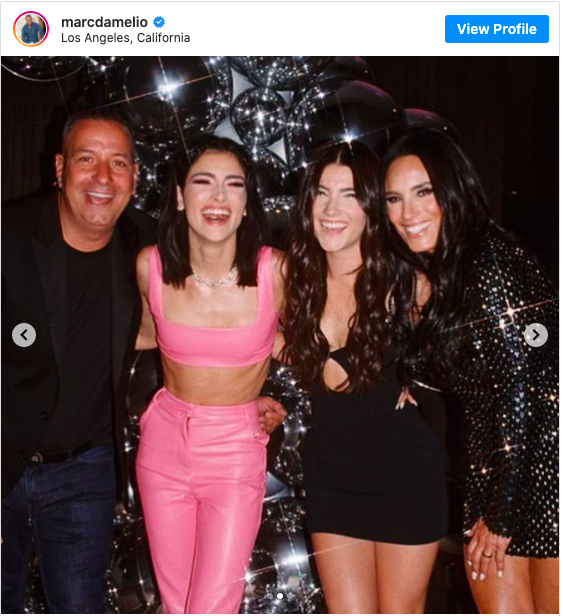 The family already has a YouTube channel with over 1.6 million followers. However, the programme delves much farther into their lives.
Marc said he wasn't sure why Hulu wanted to produce a programme about his family at first, but as filming began, he recognised that exposing the ups and downs of his girls' lives was a good idea and might help other young people dealing with their own social media presence.
Also Read:
Gwyneth Paltrow reveals KISSING Iron Man was the worst: 'Like kissing my brother'
"Everyone has to cope with how to use the internet, and I think that's what this programme represents, and maybe people will learn something from it," he added.
While the sisters love reality shows such as "Dance Moms" and "Selling Sunset," they don't see their new show as a rip-off of "Real Housewives" or "Keeping Up with the Kardashians."
"We informed [Hulu] that we didn't want this to be a drama," Charli said. "We don't want to be the ones to turn the tables. That's not us, and it's not true, therefore we're not going to say it."

The family received backlash in November for a video from their series "Dinner with the D'Amelios." When personal chef Aaron May, a family friend, detailed delicacies he was cooking for them for dinner, including paella, Charli was chastised for making expressions. While doing so, she made funny expressions and made gagging noises. As a result, she lost TikTok followers, and she aired an emotional livestream in which she apologised for "intentionally hurting or really putting anyone down."
Hulu's vice president of documentaries, Belisa Balaban, said in a statement when the show was announced in December that the streamer is "happy to work with the D'Amelio family to provide viewers an authentic experience."
Dixie, as well as TikTokers Bella Poarch and Addison Rae, have already made a name for themselves in the music industry. Rae also recently featured in Netflix's "He's All That," which, while receiving mixed reviews, garnered a lot of attention on social media.
The D'Amelios have been actively promoting the programme in the weeks leading up to its premiere, sharing snippets and teasers on their TikTok accounts. The programme also has its own TikTok account, which has 518,400 followers as of Friday.
Some D'Amelio sisters followers expressed their delight at seeing their favourite influencers in a different media.
Diana Alexe, 14, who resides in Europe and runs a Dixie fan page on Instagram, said she hopes to have a stronger connection with the stars after viewing the show.
While some fans are excited, Others appeared more skeptical.
"Um why's the D'Amelio family getting a reality show !?" one tweeted.
"So the d'amelio family really got their own reality show on hulu," another person wrote.
And some just aren't used to paying for the entertainment they consume.
"This actually seems entertaining but I don't have Hulu," one TikTok user said in a comment on Charli's recent trailer video of the show.