Published On
Vijay Mallya's Happy Ganesh Chaturthi 2022 wish sends netizens into a frenzy; gets 'SBI reminder' in response
Vijay Mallya's Ganesh Chaturthi wish did not go down well on social media as netizens started trolling the fugitive businessman and also sent him a reminder of SBI
Author :
Ujjwal Samrat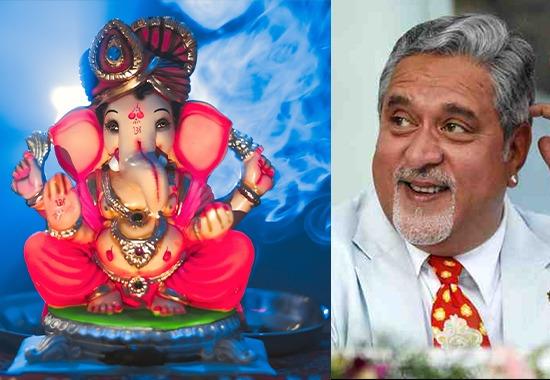 Ganesh Chaturthi 2022 festival began on August 31 and people celebrating around the world welcomed Lord Ganesha at their homes. After a hiatus of two years, Ganesh Chaturthi 2022 is finally being celebrated in India without any restrictions. While celebrities of various fields poured best wishes on Ganesh Chaturthi, fugitive businessman Vijay Mallya also joined the course. Indian fugitive businessman Vijay Mallya on Wednesday took to his Twitter handle and wished everyone Happy Ganesh Chaturthi 2022.
However, Vijay Mallya's Ganesh Chaturthi wish did not go down well on social media as netizens started trolling the fugitive businessman and also sent him a reminder of SBI. One user wrote that she will not accept his Ganesh Chaturthi wishes until he comes back to India. Another user shared a photoshopped image of SBI asking the fugitive businessman to return the money.
Here's how netizens reacted to Vijay Mallya Ganesh Chaturthi's wishes
ऐसी बधाइयाँ नही मानी जायेगी आपको भारत आना पड़ेगा😂😂

— Pratima Panday🇮🇳 (@MinyTinyminy16) August 31, 2022
Uncle voh paisa kab tak vapis kroge?

— Divya Gandotra Tandon (@divya_gandotra) August 31, 2022
After reporting 5,278 fraud cases in Q1FY23, Kotak Mahindra now blames it on customer lapse
August 31, 2022
🤣🤣🤣🤣🤣 I have laughed twice today looking at your tweets. You are terrific ♥️

— Priti Tiwari (@DiscretePriti) August 31, 2022
Vijay Mallya case development
Coming to Vijay Mallya's case development, the Supreme Court last month sentenced the fugitive businessman to 4 months of imprisonment in a contempt of court case. Mallya, residing in the United Kingdom since March 2016, was convicted for contempt of court on May 9, 2017, for not truthfully disclosing his assets and transferring $40 million to his children in violation of the SC's order.
Mallya is facing serious charges of fraud and money laundering pertaining to the amount borrowed by Kingfisher Airlines (KFA) from several Indian banks. He has been out on bail in the UK since his initial arrest in April 2017. In 2019, he became the first person to be declared a fugitive economic offender on a plea of the Enforcement Directorate. On April 20, 2020, the High Court of Justice of the UK dismissed his plea against his extradition to India.