Published On
VIRAL Video: Dharmendra celebrates International Yoga Day with water aerobics in swimming pool
On International Yoga Day, Dharmendra shared his routine, saying, "It's a lot of fun to do your aerobics against a water current. I hope you enjoy it."
Author :
Sheetal J Bhalla
On International Yoga Day, several celebrities stepped forward to practise yoga, and iconic actor Dharmendra was one of them. The actor practised aerobics in his swimming pool while staying at his Lonavala home and published the video on social media.
He is seen exercising while submerged in water in the video, with the title tune of 'Satyam Shivam Sundaram' playing in the backdrop. He also said that the water pressure was 'good.' See video here.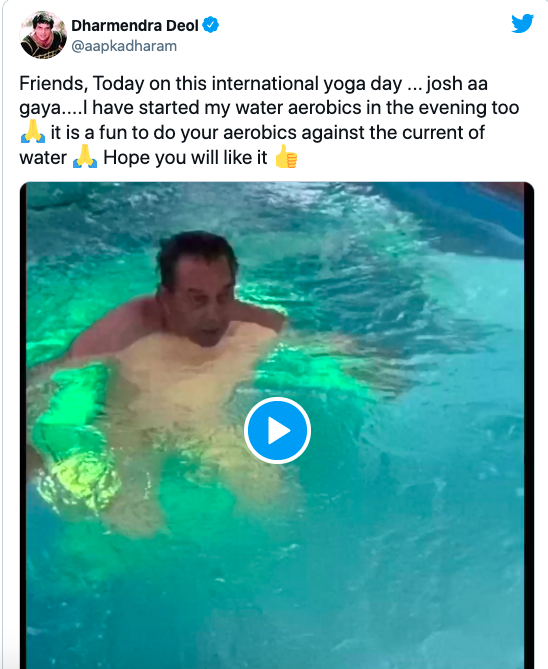 While sharing the video he captioned it, "Friends, Today on this international yoga day ... josh aa gaya. I have started my water aerobics in the evening too it is fun to do your aerobics against the current of water. Hope you will like it."
Also Read: Trishala Dutt on judgemental people: See an epic reply by Sanjay Dutt's daughter in Q and A session
His followers showered him with love and admiration in response to his post. Many people referred to him as the greatest actor of all time, while others sought his blessing. One fan further stated that the actor appears to be 58 years old rather than 85, and that he is an encouragement to all young people to be healthy and athletic.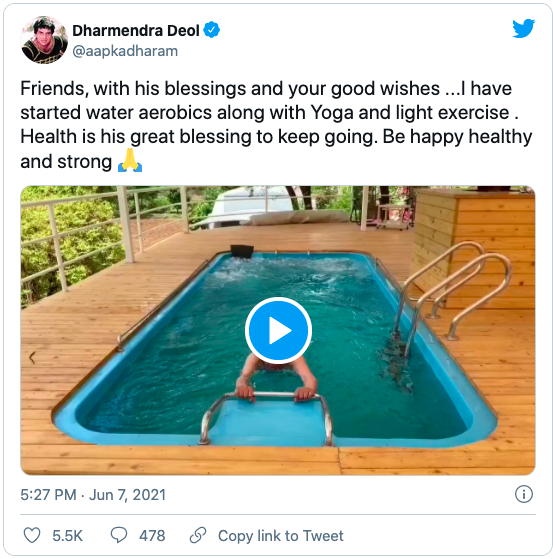 Earlier this month, Dharmendra had shared a video from his swimming pool when he started water aerobics along with Yoga and light exercise . He wrote in his caption, "Friends, with his blessings and your good wishes ...I have started water aerobics along with Yoga and light exercise. Health is his great blessing to keep going. Be happy healthy and strong."
Since the start of COVID-19, the actor has been staying at the farmhouse and has been releasing footage of his daily life to keep the audience entertained.