Published On
VIRAL VIDEO: Lara Dutta shares 'BTS masti' of Akshay Kumar on the 'Bell Bottom' set
Lara Dutta shared a behind-the-scenes (BTS) video from Bell Bottom's set. Actors are seen dancing to Akshay Kumar's tune in the video.
Author :
Sheetal J Bhalla
Bell Bottom, starring Akshay Kumar, was released in theatres on August 19. The film has received a lot of positive feedback. The cast and crew are releasing behind-the-scenes (BTS) photos and videos to celebrate the film's success. Lara Dutta recently released a new BTS video in which Akshay Kumar is seen making the entire cast, including Lara, dance to his tunes. The actors appear in the video dressed as their film characters.
Lara Dutta shared a new behind-the-scenes video from the set of Bell Bottom, which opened in theatres on August 19. Many of the film's cast, including Lara, can be seen dancing in the video while Akshay performs in front of them. For the film, the actress is dressed as Indira Gandhi. See video here.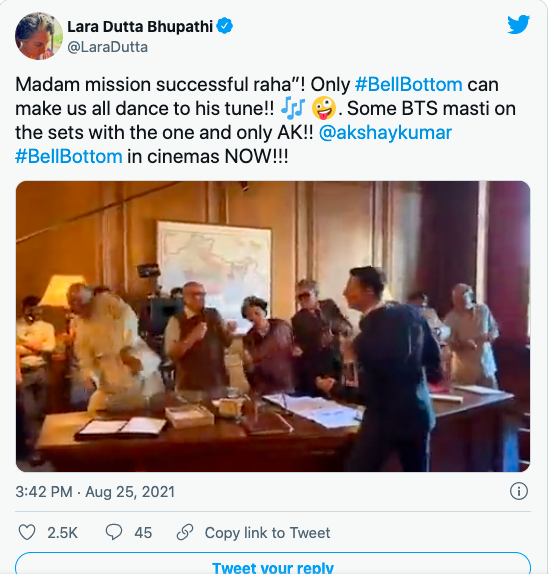 Sharing the video, Lara wrote, "Madam mission successful raha! Only #BellBottom can make us all dance to his tune!! Some BTS masti on the sets with the one and only AK!! @akshaykumar #BellBottom in cinemas NOW!!! ."
The internet was blown away by Lara Dutta's transformation in Bell Bottom. Akshay Kumar shared a video of the long transformation of Lara into Indira Gandhi. In another tweet, the actress thanked make-up artist Vikram Gaikwad and his team for their efforts.
"So much appreciation for the makeup and prosthetics done by #VikramGaikwad and his amazing team. Each day, watching my face transform in front of the mirror was like watching a magician at work! #BellBottom in 3D. In cinemas on 19th Aug ."Lara Dutta wrote, referring to them as magicians.
Bell Bottom is directed by Ranjit M Tewari and stars Akshay Kumar in the lead role. It's a spy thriller set in the 1980s, with many airline hijackings occurring in India at the time. Vaani Kapoor, Huma Qureshi, Adil Hussain, and Lara Dutta also feature in the film. Vaani portrays Akshay Kumar's wife, while Lara Dutta represents former Prime Minister Indira Gandhi, who was in power at the time.