Virat Kohli's unique earbuds: Apple's Beats Powerbeats Pro TWS earbuds price, where to buy & everything you need to know
Virat Kohli was using Apple's less-known earbuds named- Beats Powerbeats Pro TWS earbuds which is not available in India.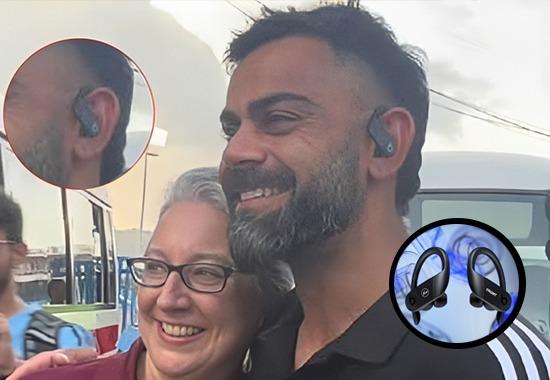 -

Virat Kohli is the third highest-followed sportsperson on Instagram and arguably the best modern-day cricketer. Apart from being followed due to his cricket prowess, it is no secret that the former Indian captain is also a trendsetter. Be it, boys or girls,m Virat Kohli's fashion statement is widely observed and even followed by GenZ. Virat Kohli who is currently in West Indies to play the ongoing ODI series after the Tests, became the talk of the town after he his met West Indian cricketer Joshua De Silva's mother and fulfilled her wish while he was heading back to the team hotel. Virat Kohli's meeting with Joshua De Silva's mother grabbed global headlines as she broke down after meeting the former Indian captain. De Silva informed Kohli that her mother is a massive fan of him and therefore she came to the stadium only to watch him play and score his century. While the story sounds inspiring and heartwarming, Virat Kohli started trending for another reason. Virat Kohli was sporting interesting and lesser known earbuds when he met Joshua De Silva's mother. Following that fans on social media started digging into Virat Kohli's earbuds as they looked trendy as well as comfortable.

Later, it was revealed that Virat Kohli was using Apple's less-known earbuds named- Beats Powerbeats Pro TWS earbuds. For the unversed, Apple's Beats Powerbeats Pro TWS earbuds are not officially available in India. Beats Powerbeats Pro TWS earbuds price is approximately Rs 20,000 ($249.95) on Apple's official US store. Virat Kohli Apple earbuds offer adjustable, secure-fit ear hooks for comfortable and stable use, along with IPX4-rated sweat and water resistance, making them ideal for intense workouts. Interestingly, LeBron James also sports similar earbuds. For those who are unaware, Apple acquired Beats in 2014. Beats 'b' was founded by musical stars Jimmy Lovine and Dr. Dre. Within five years, Beats became an instant hit in the music and sports world.
Joshua De Silva's mother finally got a chance to meet Virat Kohli ❤️@imVkohli • #ViratKohli𓃵 pic.twitter.com/hJJFWU5pAa

— Virat Kohli Trends™ (@TrendVirat) July 22, 2023
Coming back to India's tour of the West Indies, Rohit Sharma & Co sealed the two matches Test series by 1-0. While the first match saw Ashwin's magical spell & debutant Yashasvi Jaiswal's magnificent ton, the second match saw Virat Kohli ending his century draught in Test cricket. While Team India defeated West Indies by an innings in the first Test, the second Test ended up in a draw as the final 2 days were washed out due to incessant rains. Now, India vs West Indies ODI series has started and the first match went in the favour of the visitors. Ravindra Jadeja and Kuldeep Yadav's fiery spells proved to be too good to handle for the big hitters of the Caribbean team.
WI cricketer Joshua Da Silva's mother breaks down after hugging & kissing Virat Kohli; Video Viral