Published On
'Who is AR Rahman?': Nandamuri Balakrishna's controversial comment; feud between Tamil and Telugu fans
Nandamuri Balakrishna does not value the Bharat Ratna-India's highest civilian award as well as AR Rahman and Oscars.
Author :
Sheetal J Bhalla
Nandamuri Balakrishna, a Telugu actor, has generated debate by asserting that he doesn't know AR Rahman's music or achievements around the world
"I don't know who Rahman is," the 61-year-old actor told a Telugu news channel. It makes no difference to me. After ten years or so, he has a smash and wins an Oscar."

It's worth noting that the soundtrack for Nandamuri Balakrishna's Nippu Ravva was composed by AR Rahman in 1993. See his controversial interview here.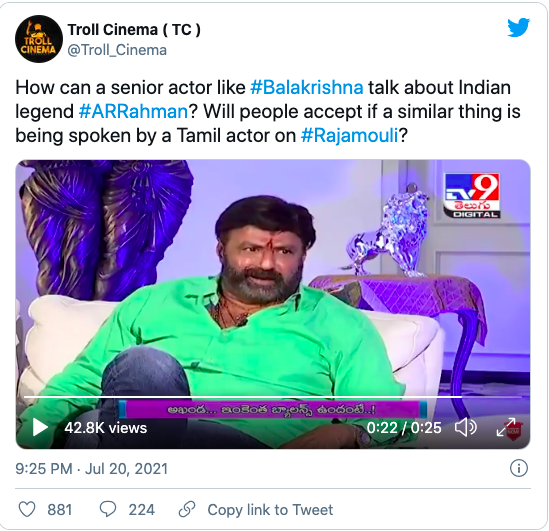 Nandamuri Balakrishna went on to say in the interview that he doesn't regard the Bharat Ratna, India's highest civilian award, not also Oscars. He believes his late father, NT Rama Rao, was not deserving of the coveted award. "All of these honours are equal to my foot. No award can compensate for my family's commitment to Telugu cinema. Bharat Ratna, in my opinion, is on equal with NTR's toenail.The awards must feel sad, n
ot my family or my father," he added.

Balakrishna also positioned himself above Hollywood director James Cameron during the conversation. "Unlike Hollywood filmmaker James Cameron, who takes years to create a film, I prefer to wrap up my shoots swiftly. I can make more hit movies in less time because of the way I work," he explained.

Also Read: Veteran Malayalam actor KTS Padannayil passes away at 88

Feud between Tamil and Telugu fans
The debate has erupted into a Twitter brawl between Kollywood and Tollywood supporters, with Tamil (Kollywood) followers posting about musician AR Rahman's accomplishments and (Telugu) Tollywood fans debating and appreciating Balakrishna's flicks. Fans of Rahman began using the hashtag #WhoIsBalakrishna, while fans of Balayya began using #LegendaryNandamuriBalakrishna. After a time, Balayya supporters began to use the hashtag #WhoIsBalakrishna to discuss his films, pointing out that even Tamil actors are Balayya.