Who is Dipendra Singh Airee? Nepalese Cricketer who shattered Yuvraj Singh's T20 World Record At Asian Games 2023
Dipendra Airee's phenomenal performance leads Nepal to historic T20I milestone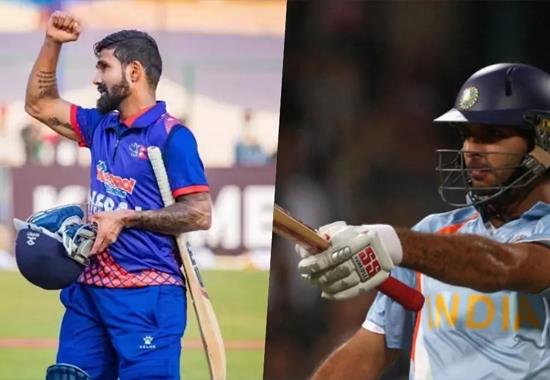 -

In a remarkable cricketing feat, Dipendra Singh Airee, the young sensation from Nepal, made headlines by surpassing Yuvraj Singh's T20 record with a blistering half-century in just nine balls.

This outstanding performance came during Nepal's opening match in the Asian Games 2023, where they set a new world record by scoring an unprecedented 314/3 in a T20 International (T20I) encounter.
DIPENDRA SINGH CREATED HISTORY...!!!

He smashed the fastest T20I fifty from just 9 balls in Asian Games against Mongolia - Broke the record of Yuvraj Singh from 12 balls. pic.twitter.com/rWuhiG4OTv

— Johns. (@CricCrazyJohns) September 27, 2023
A Record-breaking half-century in just nine balls
Dipendra Singh Airee, born on January 24, 2000, in Nepal, has been a rising star in the world of cricket. In a historic moment on September 27, he etched his name in the record books by breaking Yuvraj Singh's record for the fastest half-century in T20I cricket.
Airee's whirlwind fifty came in just nine deliveries during the Asian Games 2023 match against Mongolia, propelling Nepal to their record-breaking total.
A Career on the Rise
Airee's journey in international cricket began in August 2018 when he was part of Nepal's debut One Day International (ODI) squad that faced the Netherlands. Since then, he has consistently showcased his cricketing prowess, earning recognition as an all-round player.
pic.twitter.com/rWuhiG4OTvSeptember 27, 2023Also Read: In a historic victory: Faridkot's Sift Kaur Samra clinches gold at Asian Games
Notably, his first-class debut in November 2019 at home against the Marylebone Cricket Club (MCC) marked a significant milestone in his career. Airee's exceptional performances led to his appointment as the vice-captain of Nepal's team during the 2019 ACC Emerging Teams Asia Cup.
Impressive T20I Stats
Throughout his five-year career, Airee has participated in 52 ODIs and 44 T20Is. His T20I statistics are particularly impressive, boasting over 1,100 runs at an average of 35.58 and a remarkable strike rate of 132.25.
This includes one century and five half-centuries with the bat and 21 wickets with an average of 17.95 and an economy rate of 6.14 as a bowler.
Nepal's Historic Milestone
Nepal's record-breaking achievement in the Asian Games is a testament to their rising prominence in international cricket. In their opening match against Mongolia, Nepal became the first team to breach the 300-run mark in a T20I, amassing an imposing total of 314 runs.
Kushal Malla played a pivotal role in this historic game, blazing an unbeaten century with 137 runs off just 50 balls. Notably, Dipendra Singh Airee contributed significantly with his explosive batting, surpassing Yuvraj Singh's fastest fifty record in T20I cricket.
Nepal's innings featured a staggering 26 sixes, setting a new T20I record for the most sixes in a single innings, previously held by Afghanistan. Additionally, Malla's century, achieved in a mere 34 balls, set a new record for the fastest T20I century, surpassing the likes of Rohit Sharma and David Miller.
In conclusion, Dipendra Singh Airee's record-breaking performance and Nepal's historic achievements in the Asian Games 2023 have solidified their place as a rising force in international T20 cricket, capturing the imagination of cricket fans worldwide.