Published On
Who is Marijana Veljovic? 2023 Australian Open 'female' umpire angry exchange with Rafa Nadal
Marijana Veljovic also slammed Nadal politely which turned out to be a heated exchange Author :
Ujjwal Samrat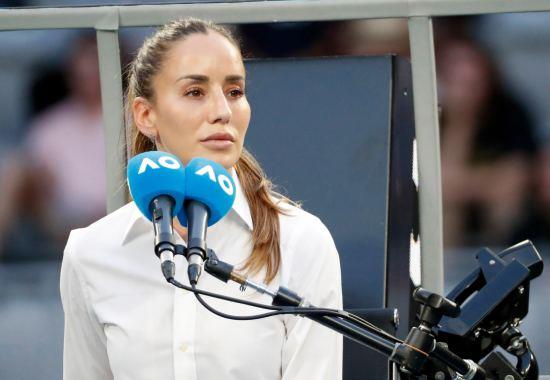 World Number 2 Rafael Nadal on Wednesday was knocked out from the 2023 Australian Open sending fans into shock. Rafael Nadal's Australian Open title defence came to a whimpering end on Wednesday, as he was defeated 4-6, 4-6, 5-7 by World No. 65 Mackenzie McDonald in the second round. Rafael Nadal faced multiple issues at the massive Rod Laver Arena including an abdomen injury and a 'towel' issue. 4-6, 3-5 down, the Spaniard took a match timeout to get treatment for what appeared to be his hip, and following the long delay, never looked at the same competitive level again. His body language was miserable, as the camera panned to his concerned-looking team, throughout the third set. However, what caught everyone's eyes was when Nadal lost his calm and snapped at the 'female' umpire chair Marijana Veljovic. In return, Marijana Veljovic also slammed Nadal politely which turned out to be a heated exchange. Amidst all the drama, fans around the world started to wonder about the female umpire chair or started asking who is Marijana Veljovic that shut down the 22 times Grand Slam winner.
Who is Marijana Veljovic?
Marijana Veljovic is a well-known figure in the world of Tennis. She is regarded as one of the most beautiful umpire chairs around the world. Marijana Veljovic has been umpiring for more than five years and has overseen a variety of Grand Slam matches. Marijana Veljovic is a Serbian tennis umpire who has officiated several Grand Slam matches. Veljovic's stunning beauty captured viewers' attention after Roger Federer's match against Tenny Sandgren at the Australian Open in 2020. Now, in Australian Open 2023, Marijana Veljovic has yet again grabbed the attention after her heated exchange with Nadal. Veljovic has openly expressed how she wants to encourage more women to get into tennis umpiring. Veljovic received her gold badge for umpiring in 2015 and has swiftly risen up the ranks ever since. Veljovic was also in charge of the 2018 Australian Open women's singles final.
The female Umpire Chair first grabbed the headline after Tennis icon Boris Becker allegedly made 'creepy' comments about her. Becker came under fire for making a 'creepy comment' about Veljovic while he was serving as a commentator for Alexander Zverev's US Open semi-final victory. "I have to say, the umpire is extremely pretty," the 52-year-old said on EuroSport Germany. "You eat with your eyes," Becker added.
Nadal vs Marijana Veljovic
The 2023 Australian Open Rafael Nadal angry video shows the former world number 1 screaming and complaining at the female umpire chair. Although the entire audio is not clearly audible, here's what Nadal said-
Australian Open 2023: Rafael Nadal loses calm at female chair umpire over 'TOWELS'; Video Viral
"Every time, I am in rush, even serving normal. Without the towel, every time, I see the clock at 5... 4..... With you it is always the same," Nadal said with disapproval. "It's okay. For you it doesn't matter. But I cannot take the towel every time. It is out there."
Marijana Veljovic's pics
Chair umpire Marijana Veljovic, just not having it from Federer #ausopen pic.twitter.com/WGq897DJtR

— Ryan Métivier (@ryanmetivier) January 28, 2020
Marijana Veljovic, la juez de silla que enamoró a todos en el Roger Federer frente a Tennys Sandgren de #AusOpen. pic.twitter.com/2Z9fjz33aR

— ᴍʀ. ʀɪᴠᴇʀᴇᴛᴛɪ (@MarioRiveretti) January 28, 2020
4th Women's Singles Grand Slam Final for Marijana Veljovic pic.twitter.com/tBJZG1OL5p

— tnns off (@tobster_17) January 29, 2022
2 matches on ashe, 2 on armstrong, 1 on grandstand and it's only sunday. an amazing #usopen for marijana veljovic so far 💗 pic.twitter.com/Gk7MAjflCN

— s (@queenveljovic) September 4, 2022