Published On
Why Gangs of Punjab target Punjabi Singers & Kabaddi Players?
The number of gangsters surged in Punjab and there was a spurt in extortion and loot, striking fear in the hearts of residents. Author :
Priyanka Vinayak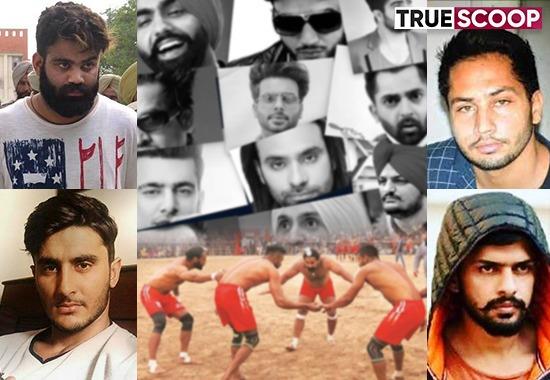 For the last few months, gang wars are increasing in Punjab. Their numbers surged and there was a spurt in extortion and loot, striking fear in the hearts of residents. After the killing of Kabaddi player
Sandeep Nangal Ambiya,
Punjabi singer
Mankirt Aulakh
received death threats. It seems like they are following the footsteps of the Underworld Mafia of Mumbai and are trying to widen their area to overpower the government.
The following gangs are currently operating in Punjab:
1. Jaggu Bhagwanpuria gang
Jasdeep Singh AKA gangster Jaggu Bhagwanpuria is a well-known name in Punjab. He is a youth icon for many sports players and Kabaddi lovers. He is also known as Supari King in Punjab. Jaggu is famous for his criminal activities mostly in the Majha area of Punjab. Jaggu and his gang were the main accused in the killing of the son of a Sarpanch in Dhianpur Village on Diwali Night.
2. Lawrence Bishnoi group
He is a well-known criminal in Punjab and Student Organization Punjab University (SOPU) leader. He has been imprisoned many times for his evil deeds. He has over 25 cases registered against him including cases of attempt to murder, extortion, snatching, carjacking and under the Arms Act in Rajasthan, Punjab and Haryana.
3. Jaipal Bhullar gang
Punjab's most wanted gangster Jaipal Bhullar and his close aide Jassi Kharar were killed in a joint operation by Punjab Police, West Bengal Police and central security agencies during an encounter at Shahpurji Enclave in Kolkata in June 2021. His name is again making headlines due to the arrest of Jaipal Bhullar's close associate by Mohali Police in Kharar on Friday.
4. Bambiha Group
Davinder Bambiha was one of the most dangerous Gangsters in Punjab. Davinder Bambiha was encountered by Punjab Police in 2016 because of his criminal activities. His group is still active in Punjab. Recently, the Davinder Bambiha group has claimed the responsibility for threatening Punjabi singer Mankirt Aulakh in their Facebook post.
After the formation of a new government in Punjab, cases related to criminal activities are increasing day by day. This is not a new thing. Whenever a new government is formed, gangsters try to overpower the government. Earlier, the singers due to fear do not report such cases. But now, they are reporting such incidents.
Why Gangs of Punjab target Punjabi Singers & Kabaddi Players?
The Gangs of Punjab due to the following reasons target Punjabi singers and Kabaddi players:
Punjabi music industry has become the number one music industry in India. Singers easily get name and fame. It's easy for gangsters to target them for extortion. Singers like Mankirt Aulakh and Parmish Verma received death threats.
Moreover, the Music industry promotes guns and violence through their songs. So, these gangsters find Punjabi singers as their soft target.
Youth is inclined towards these professions. To build an image among the youth, they target Kabaddi players and singers.
Punjab government is trying to curb these activities. For this, CM Bhagwant Mann has formed an anti-gangster task force (AGTF) in Punjab which will be headed by a police officer of additional director-general (ADGP) rank. To break the unholy nexus which has already spread its wings in the drug trade and Kabaddi world, this step is taken by Mann government.
Earlier, former CM Amarinder Singh had also set up Punjab Police's Organised Crime Control Unit (OCCU) to deal with gangs and gangsters. Punjab has around 70 active gangs having about 500 members out of which about 300 are in jails.