Published On
Why Tomato price is skyrocketing in India? Everything you need to know
Tomatoes were sold at a price of Rs 20 to Rs 30 per KG last month, however, now they are being sold at Rs 100 per kg. Author :
Malkit Singh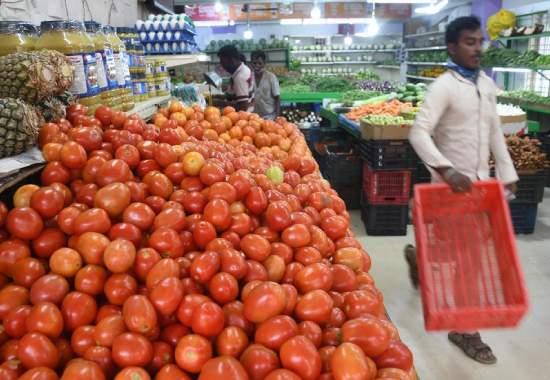 Monsoon is supposed to bring pleasure and peace from the scorching heat of the summer. However, this year's monsoon has brought tears for the common man as many vegetable prices have skyrocketed. On Tuesday, netizens took to the Twitter handle and expressed their displeasure over skyrocketing price of Tomatoes in India. Not only this, netizens slammed and trolled the government of India for increasing Tomato price exponentially, To be precise, Tomato was being sold at a price of Rs 20 to Rs 30 per KG, however, now it is being sold at Rs 100 per kg and in some place, it has even crossed the century mark. Now, the question arises why the Tomato price is increasing. To know the answer continue reading-
Tomato price increase reason
Reports suggest that the reason for the rise in the prices of tomatoes is due to unseasonal rains in the past. Tomato crops have suffered heavy losses. Apart from unseasonal rain, tomato production has declined due to the severe heat. Not only this, Apart from this, the Biparjoy cyclone has also affected the production of tomatoes. Gujarat and Maharashtra are among the top tomato-producing states, where Biperjoy's cyclone was witnessed. Due to less sowing this year, there has been a decrease in production, which can be considered as the reason for the increase in prices.
Apart from tomato, the prices of many vegetables including capsicum, radish, and cabbage have increased. Reportedly, multiple vegetable traders were quoted saying that the crop has been damaged in many places due to unseasonal rain. In such a situation, the prices of vegetables have increased. As per reports, most of the tomatoes used to come from Himachal Pradesh in the mandis of Delhi, but only 40 percent of the crop were saved there. The tomato crop is finished in Bengaluru. As a result, prices are skyrocketing.
Here's how netizens reacted to the Tomato price hike
#TomatoPrice hike, Say it like Nimmo Tai 😎 pic.twitter.com/GmKJKR74vs

— United India 🇮🇳 (@Unitedd_India) June 27, 2023
Best finance minister ever #TomatoPrice pic.twitter.com/pgV0rV075w

— RheA (@rheahhh_) June 27, 2023
Retail inflation falls to 25-month low in May as food prices slide
गरीब की थाली से दाल गायब, आटा गायब, तेल गायब, सब्ज़ियाँ भी गायब।

मोदी जी, आप विदेशों में अर्थव्यवस्था की बड़ी बड़ी बातें तो करते हैं, लेकिन महंगाई तो आपके बस से बाहर जा रही है।

निर्मला जी, अब प्याज़ के बाद क्या टमाटर भी खाना छोड़ दें?#Tomato #TomatoPrice pic.twitter.com/gqDUUvkmbR

— Netta D'Souza (@dnetta) June 27, 2023