Published On
With Mohali RPG attack Afgani war weapons again loom over India
The Headquarters of security Wing in Mohali has been attacked with Rocket Propelled Grenade (RPG).
Author :
Chanderveer Singh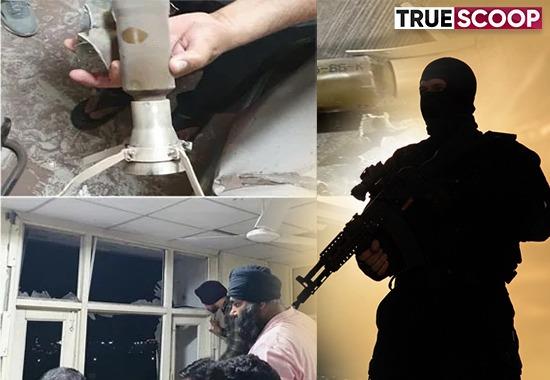 In a serious attack on Intel headquarters of Punjab Police in Mohali shakes the nation and recalling the old style of terrorist attacks. The use of Rocket Propelled Grenade (RPG) also remind us about Afgan terrorists.
According to Punjab police, the Rocket Propelled Grenade (RPG) launched from about 80 meters away. A case has been filed against the unknown assailant. After this, the intelligence is probing the CCTVs, mobile tower in the area.
What is RPGs?
Any tank, armored vehicle, helicopter, or aircraft can be exploded using a Rocket Propelled Grenade (RPG). It has a 700-meter range. By placing a rocket-propelled grenade on the shoulder, it can be launched. It's a missile type weapon that fires rockets with explosive warheads. A single person can carry RPG. That is, it can be operated by a single person. It was recently employed in Afghanistan during the Taliban fight.
Number of incidents in recent times
There has been a significant surge in anti-national activities in Punjab region for the last few months.
1. The announcement of celebration of Khalistan Foundation Day by Khalistani terrorist Gurpatwant Singh Pannu.
2. Clashe between Shiv Sena and Sikh community in Patiala on April 30. Pro Khalistan slogans are raised.
3. IED is found in Karnal and four terrorists of Babbar Khalsa were booked.
4. 4 kg RDX found in Tarn Taran and
two suspects were arrested.
5. Khalistani flags were put up at the gate of Himachal Vidhan Sabha.
Khalistan Link
Questions are being posed that the terrorist groups are planning some thing big and this attack is an attempt to register presence? Khalistani organization Sikh for Justice (SFJ) has taken the responsibility for the Mohali blast.
RPG attacks were common during Afaghanistan-Taliban war. In India and precisely in Punjab RPGs were used during the insurgency period which lasted unto 1990. During emergency (1975-77) and after 1984 some Khalistan elements used RPGs. There are lots of evidences are present it public domain which tells us that how RPGs were used to blast the cars, homes and police stations by terrorists.
Here in Mohali attack there is big question to answer where this grenade come from. Is it come form Afghanistan-Pakistan route?
However, some experts are doubtful of a new equation. The help from Pakistan to Khalistanis is evident, now after the Taliban took over Afghanistan, a new formation of Pakistan, Khalistan and
Taliban can be created.