Published On
Sandeep Nangal Murder Case: Police arrest Haryana's gangster Sachin, sent for 2 days remand
Sachin is a resident of Rewari. The police arrested him on Monday.
Author :
Priyanka Vinayak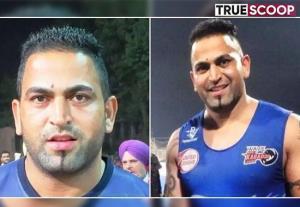 The police have arrested one more in
Sandeep Nangal
killing case. Sandeep Nangal was killed by the open fire during a kabaddi match in Nakodar's village Mallian in Jalandhar, Punjab. The police have arrested gangster Sachin resident of Rewari.
Sachin has sheltered the accused who killed Kabaddi player Sandeep Nangal Ambian by shooting bullets on March 14 in Nivin Mallian village of Nakodar. He was produced in the court and got a police remand for two days. Although it has not been officially confirmed. Police have got more important clues from the accused, on the basis of which the police will soon include some more accused in this case.
Earlier, police arrested Harvinder Singh alias Fauji, who provided the weapon in the murder of Kabaddi player Sandeep Nangal Ambian. Fauji admitted that he used to handle all the work of ransom and murder for Haryana gangster Kaushal Chaudhary. On the orders of gangster Chaudhary from jail, he used to contact Vikas Dahiya alias Vikas Mahle, Puneet Sharma for murder. At the same time, the police have also seized some electronic gadgets of the accused to check internet calling, which will be sent for forensic examination.
In this case, five SHOs and two CIA in charge are raiding with their teams at many places in Goa, Rajasthan, Haryana, Uttar Pradesh, Madhya Pradesh, Maharashtra and Punjab.
Many cases including murder, attempt to murder, and Arms Act are registered against Vikas Mahle in various police stations in Delhi. He is wanted in many cases. Due to this, the cells of other Delhi Police are busy taking the accused on remand.