Published On
TMC MP Nusrat Jahan delivers baby boy, ex-husband Nikhil Jain reacts
According to a medical report from the hospital where the 31-year-old had a c-section birth at 12:30 p.m. today, both the mother (Nusrat Jahan) and the kid are OK.
Author :
Sheetal J Bhalla
Kolkata: Nusrat Jahan, a MP of the Trinamool Congress and a performer, gave birth to a baby boy today afternoon at a private hospital in Kolkata.
Nikhil Jain, the estranged husband of the Trinamool MP, said in a statement, "There may be differences between us but I am wishing the newborn and his mother all the best. I wish the baby boy has a bright future."
Nusrat and Nikhil had been apart for some months, and she issued a statement earlier this year claiming that the marriage was not valid under Indian law.
"The ceremony is invalid since it takes place on foreign soil, according to Turkish marriage laws. Furthermore, because it was an interfaith marriage, it needed to be validated under India's Special Marriage Act, which was not done. According to the legislation, it is a partnership or a live-in relationship, not a marriage. As a result, the issue of divorce is not raised "Her statement had read.
Also Read:
VIRAL VIDEO: Lara Dutta shares 'BTS masti' of Akshay Kumar on the 'Bell Bottom' set
Yash Dasgupta, a well-known Bengali actor who is close to Nusrat Jahan, drove her to the hospital for the delivery this morning. Later in the day, he stated, "For those who have been asking about Nusrat's health, the mother and kid are healthy and doing well."
Nusrat has never talked publicly about her pregnancy, despite posting photos of her baby belly on her Instagram account.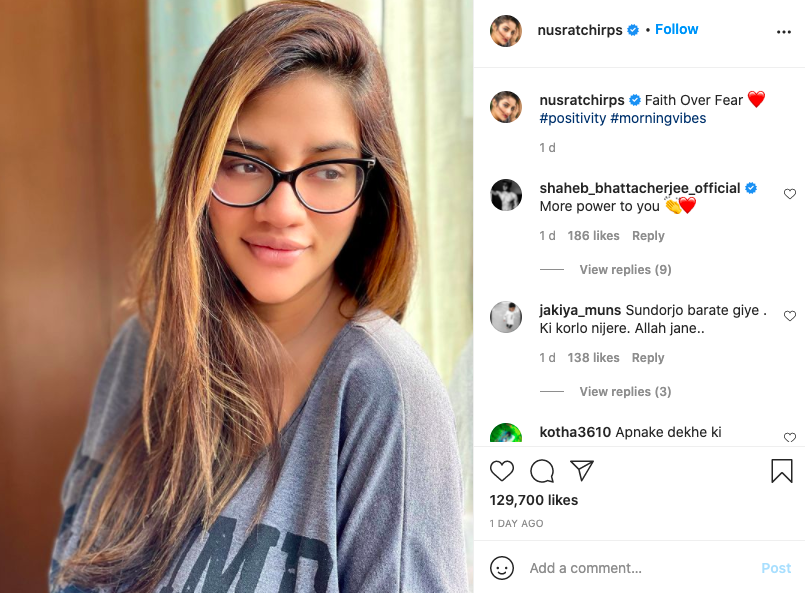 She shared a photo of herself on Instagram this morning with the cryptic message #faithoverfear #morningvibes.