Published On
Back To The Cinema Halls! New Air Filter 'Safety' Measures To Be Installed In PVR
According to CEO Gautam Dutta, the Rs 9 crore programme encompasses 855 PVR screens across India.
Author :
Sheetal J Bhalla
Across India, cinema halls have reopened, and some states have lifted limitations on seating capacity. It is likely that other states would follow suit. When it comes to closed environments like theatres, though, some people still have a lot of anxiety and worry.
PVR Cinemas, a leading film entertainment business located in Gurugram, recently teamed with Mumbai-based UFO Moviez to install the 'UFO-Wolf AirMask,' a cinema-specific air sterilisation equipment. The device promises to provide real-time air sterilisation, which protects against all types of hazardous germs, viruses, and organisms in the air and on surfaces, ensuring the safety of the audience.
In the presence of actor-producer John Abraham, who is promoting his new film 'Satyamev Jayate 2', the product was introduced at PVR Juhu in Mumbai.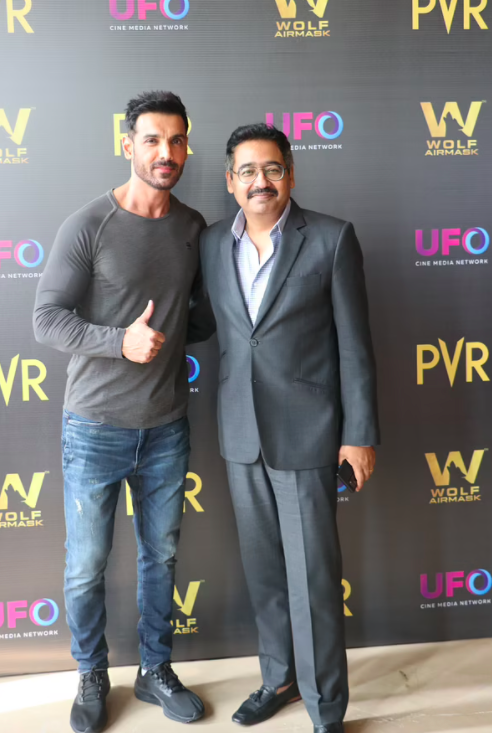 Gautam Dutta, CEO of PVR Cinemas, told afaqs! that they wanted customers to enter a movie hall feeling that it is a completely safe environment, with air quality that is better than their own homes and offices.

"We wanted to flip this whole concept on its head, because people had been questioning the air quality of the movie (halls) at one point."
Although there may be traces of virus and germs in your house and workplace, the air at the cinema (halls) will be completely free of them. We want individuals to be completely free of worry and anxiety. And that's why these systems were installed.

These devices, according to PVR, are installed in every nook and cranny of movie theatres. There are around five machines each theatre, plus one in the lobby. Countless negative ions are ejected from the machine. They remind me of the molecules you get when you're standing in front of a waterfall or in the centre of a jungle. Because the molecules are free of viruses and germs, they make you feel incredibly fresh and energised. These ions cling to a virus or bacteria in the air, rendering it dysfunctional and sterile.


PVR Cinemas, according to Dutta, intended to go above and beyond the government's standards in order to make customers feel protected. "We keep our ears to the ground and listen to the consumer, which is a key part of our brand." We needed to act when we learned that customers are still hesitant and slightly anxious about going to the movies (halls) and are concerned about the air quality. That's how this technology will let our customers feel completely stress-free and virus-free."
These devices will be installed at PVR's 855 screens across India. According to Dutta, the project cost Rs 9 crore to complete.
UFO Moviez has also partnered with Allabout Innovations, a Kochi-based technological incubator, to distribute the film to Indian theatres on an exclusive basis. UFO-Wolf AirMask is created and manufactured entirely in India as part of the Make-in-India initiative.