Amazon Prime Day Sale 2023: iPhone 14 to be available at heavy discount 'better offer than iPhone 13'
Amazon Prime Day Sale 2023 will go live on the e-commerce website on July 15 and 16 in India and people can buy almost everything at a heavy discount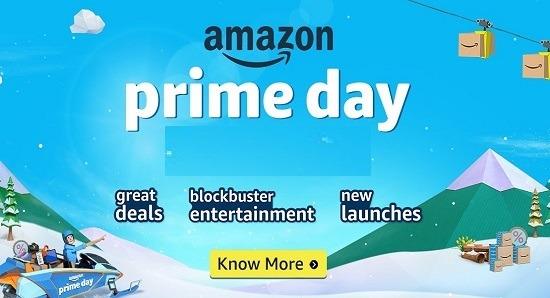 -

The countdown for the biggest monsoon sale of the year on the e-commerce website Amazon is around the corner and people around the world have braced themselves to buy their favourite goods at heavy discount prices. Yes! you heard it right. Amazon Prime Day Sale 2023 will go live on the e-commerce website on July 15 and 16 in India and people can buy almost everything at a heavy discount. Be it their dream phone iPhone 14, or a simple leather boot, Amazon Prime Day Sale 2023 is bringing you a plethora of deals to which you cannot say 'no'. Now, for people who are looking to buy a smartphone especially iPhone 14 at a heavy discount, 2023 Prime Day Sale is the perfect opportunity for you. Now, the question arises what kind of deals on iPhone will Prime Day 2023 offer? To know the answer continue reading-

Amazon Prime Day Sale 2023: Deals on iPhone

A report quoted Ranjit Babu, Amazon India Director of Wireless & Home Entertainment category, who informed that Prime Day Sal2 203 will offer biggest discount on Apple iPhone 14 in fact, the handset will be available at great discount in the sale. Ranjit Babu revealed that one of the best offers would be on the iPhone 14. The offer on the iPhone 14 will be much better than that of the iPhone 13. However, he did not reveal how much discount will be given to buyers on iPhone 14 but he assured that the deal will attract people of India and the world where the sale will be live. As of now, the price of iPhone 14 is Rs 80,000 approx on Amazon. On the other hand, iPhone 13 comes at a price of Rs 70,000 approx on Amazon. Apple iPhone 14 comes with a 6.1-inch Super Retina XDR display. The phone's screen offers a resolution of 2532x1170 pixels and comes with a ceramic shield protection. The handset\ is resistant to spills and splashes.

Step-by-step guide to buy iPhone 14 at Rs 12,000 discount at Amazon, Flipkart summer sale

Apart from iPhone 14, Prime Day Sale is also expected to bring heavy discounts or great deals on other smartphones. It is expected to give heavy discounts on smartphones like- Samsung M34 5G, Motorola razr 40 Ultra 5G, iQOO Neo 7 Pro 5G, realme narzo 60 Series 5G, OnePlus Nord 3 5G, Tecno Camon 20 Pro 5G and Itel P40+.

What is Amazon Prime Day?

Prime Day is an annual sitewide sale for members of Amazon's $139-a-year subscription membership (depending upon the country) Amazon Prime. It was introduced in 2015 as Amazon's response to "Singles' Day," a shopping holiday popularized in China by e-commerce company Alibaba. Even before that, summer sales events were nothing new as retailers clear out old inventory while planning for the holidays.