Published On
Anupam Kher SPECIAL WISHES To Wife Kirron Kher On 36th Wedding Anniversary, Shares Black and White PICS
Anupam Kher and his wife Kirron Kher have been married for 36 years. To commemorate the occasion, the actor shared a precious photo from his wedding album.
Author :
Sheetal J Bhalla
Kirron Kher and Anupam Kher are celebrating another year of togetherness. They married in 1985 and are celebrating their 36th wedding anniversary today (August 26). Anupam Kher commemorated the occasion by sharing a photograph from his wedding book with his friends and followers on social media. He also sent a nice message to his wife, wishing her health and happiness.




ANUPAM KHER AND KIRRON KHER 36TH WEDDING ANNIVERSARY


Anupam Kher is known for sharing stunning flashback photos with his fans on social media. The actor shared a black-and-white photo from his wedding album to commemorate his 36th wedding anniversary with his wife Kirron Kher. Anupam included a note for his wife with the old photograph.




"Happy 36th wedding anniversary dearest #Kirron. It has been a long journey with all the possible emotions of laughter, tears, arguments, sharing, friendship, love and togetherness! But a journey worth it. These black and white pics have all the shades of colour in them. Stay safe and healthy. Love and prayers always! @kirronkhermp #Anniversary #Life #Love (sic)," wrote Anupam Kher.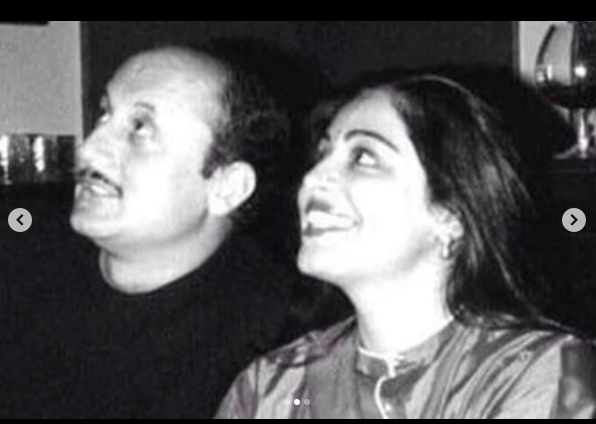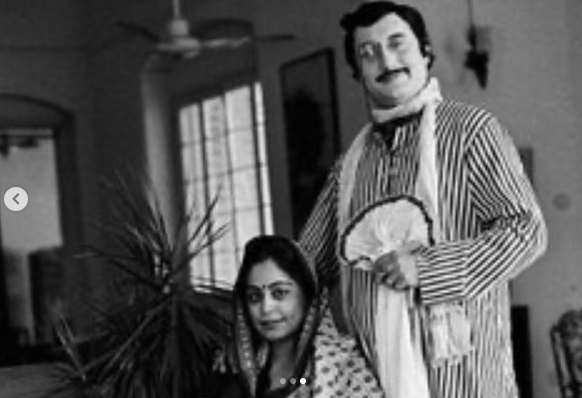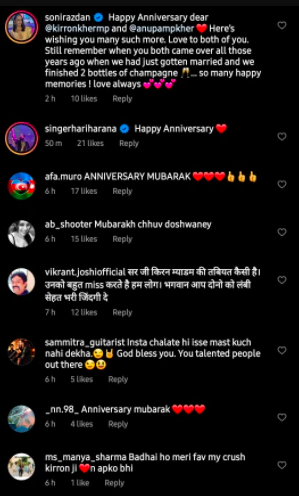 Soni Razdan was among the many fans and friends who wished the couple well on their special day."Happy Anniversary dear @kirronkhermp and @anupampkher," Soni Razdan tweeted, showering the pair with affection. Here's wishing you many such more. Love to both of you. Still remember when you both came over all those years ago when we had just gotten married and we finished 2 bottles of champagne so many happy memories ! love always ."

Anupam Kher and Kirron Kher married 36 years ago in 1985 and have a son named Sikander Kher. They've starred in a number of films together. Veer Zara, Total Siyaapa, Rang de Basanti, and more films are among those on the list.

Also Read: WATCH: Did you know 'Taarak Mehta' fame 'Popatlal' has worked in this superhit romantic Chinese film?

WHEN ANUPAM KHER CONFIRMED KIRRON KHER HAS CANCER Anupam Kher confirmed his wife Kirron Kher's multiple myeloma diagnosis on Twitter in April of this year.

"Just so that rumours don't get the better of a situation Sikandar and I would like to inform everyone that Kirron has been diagnosed with multiple myeloma, a type of blood cancer, "he said on social media.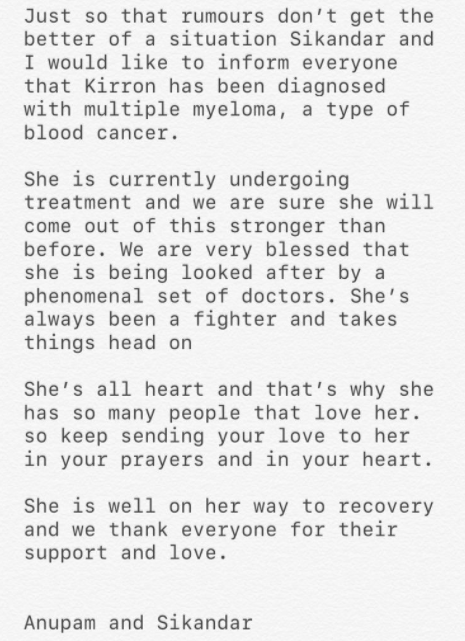 On the professional front, Anupam Kher recently completed Shiv Shastri Balboa, his 519th film. Kirron Kher began her political career in 2014. In addition to her political career, Kirron served as a judge on the reality show India's Got Talent.