Published On
Asia Cup 2022: Pakistani fans get beaten after they mock Afghanistan's fans at Sharjah Cricket Stadium; Video Viral
After Pakistani fans mocked Afghani fans, a heated argument between both nations' fans and violent clashes erupted
Author :
Ujjwal Samrat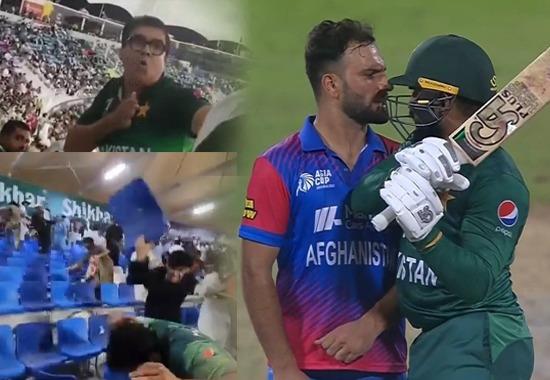 In a nail-biting encounter, Pakistan on Wednesday somehow managed to beat Afghanistan by 1 wicket and stormed into the Asia Cup 2022 final. Pakistan vs Afghanistan turned out to be a blockbuster as emotions, anger, tears almost everything flared during the match. However, it was Pakistan who held its nerves to emerge victorious. Courtesy of Naseem Shah's back-to-back sixes in the final over, Pakistan stormed straight into the Asia Cup final. However, during the 'gentlemen's game' things went all bizarre and shameful when Pakistani fans started mocking Afghani fans. As a result, chairs were hurled and Pakistani fans were beaten badly by Afghanistani fans inside the Sharjah Cricket Stadium.
There are multiple Pakistan vs Afghanistan fans fight videos have been doing rounds on social media. In fact, Pakistan Afghanistan fans fight viral video has taken center stage. In one of the videos, it can be seen clearly a Pakistani fan mocking Afghanistani fans sitting in the stands silently. After Pakistani fans mocked Afghani fans, a heated argument between both nations' fans and violent clashes erupted. Furthermore, reports suggest that Pakistani cricket fans got into an argument with Afghan cricket fans in the stadium, after which Afghan fans hit back and beat up the Pakistani fans mercilessly.
Notably, Pakistan Afghanistan fans fight not only took inside the stadium but also outside the stadium. Another viral video shows, fans clashing at road in Dubai.
Watch Pakistan Afghanistan fan fight viral video
A glimpse of Pakistani fans abusing, taunting & mocking Afghan fans inside the stadium which led to an argument and Afghan fans were provoked. Clash erupted. Hope action is taken against Pakistanis who end up indulging in violence everywhere across globe! pic.twitter.com/a5GlycRbci

— Aditya Raj Kaul (@AdityaRajKaul) September 7, 2022
And finally Afghan fans who were abused, mocked and taunted by Pakistani fans, in reaction attacked Pakistani fans at the stadium. pic.twitter.com/8oCyXFVK88

— Aditya Raj Kaul (@AdityaRajKaul) September 7, 2022
Reports coming in that Pakistani fans attacked Afghan fans at #Sharjah after an argument, and in response Afghan fans beat up Pakistani fans mercilessly. 💀pic.twitter.com/XFuzNkIXQS

— Aditya Raj Kaul (@AdityaRajKaul) September 7, 2022
This is just so disappointing to see. pic.twitter.com/qif9dNM3Qx

— Mufaddal Vohra (@mufaddal_vohra) September 7, 2022
Pakistan orchestrated Arshdeep Singh's trolling? Twitter thread's big expose on India-Pak Asia Cup 2022 match
It is pertinent to mention here that it all started when Pakistan's Asif Ali had an almost violent argument with Afghanistan's bowler Fareed Ahmad. When Fareed Ahmad took the wicket of Asif Ali and made a wild celebration, things went wrong between the two and umpires had to intervene in the matter. In fact, during the argument, Asif Ali pushed the Afghani bowler and that too in front of everyone.
This match had everything! pic.twitter.com/6r09mxPnDe

— Mufaddal Vohra (@mufaddal_vohra) September 7, 2022