Published On
Pakistan orchestrated Arshdeep Singh's trolling? Twitter thread's big expose on India-Pak Asia Cup 2022 match
A Twitter thread has made a massive expose suggesting that Arshdeep Singh social media trolling and labeling him as a 'Khalistani' is Pakistan's attempt to reignite the 'intolerance' debate in the country
Author :
Ujjwal Samrat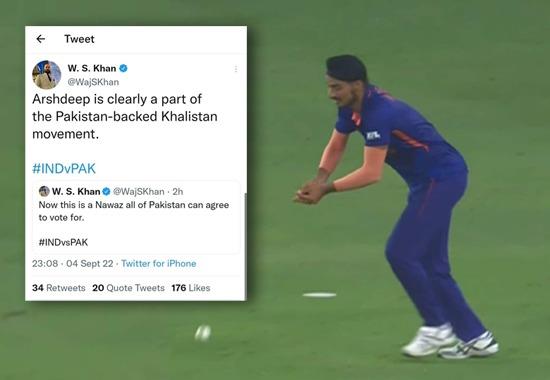 Pakistan on Sunday defeated India by 5 wickets at the Dubai International Stadium in a nail-biting contest in Asia Cup 2022. In was indeed a blockbuster India vs Pakistan Asia Cup 2022 match as it went down until the last. However, the 'Men in Green' held their nerves and emerged victorious in the end. Following the India vs Pakistan match, a massive row erupted on Twitter with young speedster Arshdeep Singh facing online hate and was termed as 'Khalistani' by netizens. Arshdeep Singh's dropping the vital catch of Asif Ali became the talk of the town and following that the 23-year-old cricketer was subjected to social media criticism.
Arshdeep Singh's trolling went too far when multiple Twitter users started calling him 'Khalistani' on social media. In fact, Arshdeep Singh Khalistan became one of the top trends on Twitter. Now, a Twitter thread has made a massive expose suggesting that Arshdeep Singh social media trolling and labeling him as a 'Khalistani' is Pakistan's attempt to reignite the 'intolerance' debate in the country and furthermore drive an anti-minority wedge between its people.
After defeating Pakistan in the Asia Cup 2022 last Sunday, the arch-rivals clashed on September 4 yet again. However, this time, Pakistan held its nerves in the nail-biting encounter. Courtesy of Mohammed Rizwan (71) and a cameo of Mohammad Nawaz (42 off 20), Pakistan managed to defeat India at the Asia Cup Group 4 match. The loss was unquestionably heartbreaking for Indians, however, the timing definitely did not make it easier as both the countries have not been on talking terms and in fact play cricket only in ICC tournaments or Asia Cup.
Propaganda against Arshdeep Singh
With the conclusion of the India vs Pakistan encounter, a coordinated agenda to selectively highlight the criticism faced by Arshdeep Singh, particularly in the 'Khalistan' context. Interestingly, widely followed Twitter user Anshul Saxena shared a thread exposing how Pakistan ran Khalistan propaganda by calling Arshdeep Singh a Khalistani. In the shared tweets, it can be seen that multiple Pakistani users propagating fake news by saying that Indian media channels have been calling Arshdeep Singh a 'Khalistani' in a bid to push 'anti-Sikh' hate narrative in India. In fact, Arshdeep 'gaddar hai' (traitor) was done by a Pakistani social media user. Not only this, Pakistani journalist Wajahat Saeed Khan took to his Twitter handle calling Arshdeep Singh 'part of Pakistan-based Khalistani' movement.
1) Indian cricket player Arshdeep dropped a catch in the 2nd match of India Vs Pakistan, Asia Cup 2022.

And, now accounts from Pakistan are running Khalistan propaganda & calling Arshdeep a Khalistani.

Here is the thread! pic.twitter.com/pOyaBPLyJW

— Anshul Saxena (@AskAnshul) September 4, 2022
2) Accounts from Pakistan is running propaganda & fake news that Indian media channel ABP news is calling Arshdeep Singh a Khalistani.

They are making a narrative that people of India hate Sikhs. pic.twitter.com/0ZtyG9yIZK

— Anshul Saxena (@AskAnshul) September 4, 2022
3) Arshdeep Singh gaddar hai isko Pakistan bhej do — Account (Nawab) from Pakistan. pic.twitter.com/JGDeS3nNku

— Anshul Saxena (@AskAnshul) September 4, 2022
Urvashi Rautela heavily trolled by Netizens after turning up in 2nd round of Indo-Pak match at Asia Cup; watch how internet responded
4) Pakistani journalist Wajahat Saeed Khan. pic.twitter.com/VGmcDIuO3a

— Anshul Saxena (@AskAnshul) September 4, 2022
It is pertinent to mention here that many Indians be it celebrities or actors came in support of Arshdeep Singh. It is pertinent to mention here that when India lost to Pakistan in last year T20 World Cup in Dubai, it was revealed that Pakistan's ISI reportedly had launched a social media attack on Mohammed Shami and propagated communal hate in India. Here's how Indian are standing up for Arshdeep Singh-
Am old enough to recall that last ball six by Miandad off Chetan, the same Chetan who took the World cup's first ever hat-trick a few months later.

Arshdeep, you are a star and every Indian loves you. Ignore what Pakistani bots are trying to do here - they did the same to Shami.

— Anand Ranganathan (@ARanganathan72) September 5, 2022
Arshdeep is a strong character. Stay that way boy. @arshdeepsinghh

— Irfan Pathan (@IrfanPathan) September 4, 2022
When a player is down is when you have to reach out to him so he emerges stronger. Saying nasty things about Arshdeep does nobody any good. We have all made mistakes under pressure. This is the time to back him. He will win India a lot of matches

— Harsha Bhogle (@bhogleharsha) September 5, 2022
Arshdeep Singh and Ravi Bishnoi were the two stars in tonight's game - Bishnoi playing his first Asia Cup game, Arshdeep even after that drop, kept the game alive in the final over and didn't lose his confidence.

— Mufaddal Vohra (@mufaddal_vohra) September 4, 2022
Notably, despite India losing the match against Pakistan, Arshdeep Singh bowled tight lines and conceded only 27 runs in 3.5 overs and also took the wicket of Asif Ali.