Published On
Fact Check: Can Goat milk selling at Rs 1000 per liter cure a patient suffering from Dengue? Here's what we know so far
Courtesy of dengue's massive outbreak, people have been buying goat milk and papaya leaves like no other. As a result, goat milk has been sold at a price of Rs 1000 per liter in Bihar
Author :
Ujjwal Samrat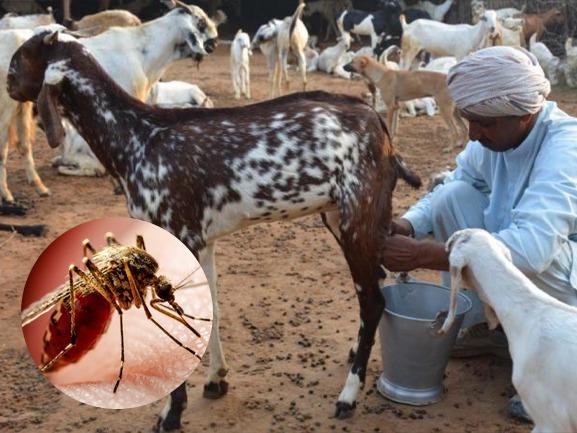 India is currently in a festive mood and making their big fat plans for the upcoming holidays on Diwali and Chhath Puja. The festive mood of India is filled with excitement knowing that fact the T20 World Cup 2022 is already knocking on the doors and the Men In Blue will take on Pakistan in their first encounter. However, amidst festive vibes, the Dengue outbreak has also started wreaking havoc in multiple states including Punjab, Bihar, New Delhi, Jharkhand, UP, and more. Especially in Bihar, the Dengue outbreak is wreaking havoc with numbers suggesting that 70 percent of the people suffering from fever are testing positive for the mosquito-bitten disease. Whenever any disease starts inflicting people on a larger scale, myths and common sayings amp up with people resorting to treatments on the basis of what they hear around them. A similar kind of thing is being witnessed in Bihar's capital Patna where the demand for Goat's milk has skyrocketed and therefore the price as well.
Reportedly, the demand for goat milk and Papaya leaves has been amped in Bihar. Courtesy of dengue's massive outbreak, people have been buying goat milk and papaya leaves like no other. As a result, goat milk has been sold at a price of Rs 1000 per liter in the region. Now, the question arises, why the sell of goat milk has amped up amidst the dengue outbreak? The answer is there are multiple claims and theories that have been going on social media that goat milk can help increase the platelets of dengue patients, or moreover can help in the treatment of dengue.
So, what is the reality? Is it true that goat milk can help in the treatment of dengue patients?
The answer is no. Multiple media reports quoted Allopathy doctors who stated that consuming goat milk when suffering from dengue can be severe to health. Not only Allopathy doctors, but Ayurvedic doctors did not suggest the construction of goat milk in dengue. However, the Ayurvedic doctors indeed vouched for papaya leaf juice especially when someone is suffering from dengue, but no goat milk at all.
IANS quoted a team of doctors from the medicine department at All India Institute of Medical Sciences (AIIMS) also said the same thing back in 2015. "If the intake of these [aloe vera, papaya leaf and goat milk] increased platelets in two or three people, that doesn't establish their efficacy in the cure of dengue. There has to be a proper controlled trial on their efficacy in the treatment of dengue," Dr SK Sharma, professor in the medicine department at AIIMS was quoted by the newswire.
Four cups of black or green tea daily can cut diabetes risk by 17%
Here's what people are alleging
My Kancha Shaurya was down with Dengue since past one week, unexpectedly he recovered so quickly with Payapa leaves extract, Coconut Water and Goat milk and of course the blessings of the almighty. pic.twitter.com/7rwVbNVKj8

— SUBASH MANI SINGH सुबास मणि सिंह (@subashmanisingh) October 15, 2022
What's the rate of goat milk per litre now? Asking for a dengue patient who decided to ignore it till his gums bled and platelets dipped to 20k and is now demanding goat milk for magical platelet purposes 😬

— Dr SareeDon (@DrPyaricetamoI) July 19, 2022
What to eat if you are suffering from Dengue?
Patients suffering from dengue are advised to have enough rest and eat in small intervals and consume enough fluids. Foods rich in Vitamin C, proteins, and spices like turmeric and fenugreek are also recommended by doctors. Food that is rich in protein and iron (e.g. meat, eggs, and liver) are recommended to help you recover from dengue fever. This help prevents anemia and strengthens the immune system. A body that is well-nourished is better equipped to combat a dengue infection. Therefore, it is important to eat frequently, rest, and drink at least 3L (about 12 cups) of fluid a day.