Published On
FIFA WC 2022: Dua Lipa denies performing in Qatar, Rod Stewart joins trend; Here's why
Pop star Dua Lipa on Monday broke her silence on her Qatar FIFA WC 2022 performance and stated that she won't be traveling there due until Qatar stops or take action against human rights violation
Author :
Ujjwal Samrat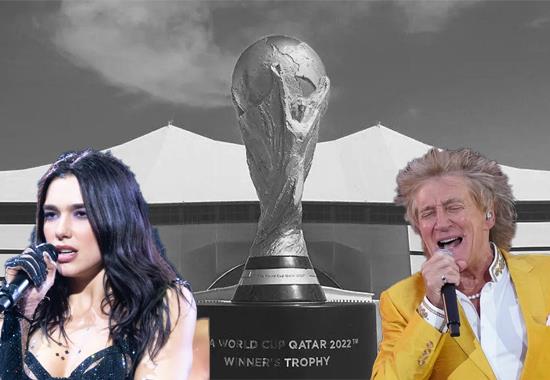 The countdown for the 2022 FIFA World Cup has begun with teams around the world slated to lock horns for the prestigious trophy. Qatar FIFA World Cup will kickstart from November 20, 2022 and therefore the country has released new and strict guidelines for the fans planning to visit the nation to support their team. However, Qatar World Cup the past few days has been facing flak over human rights violations and therefore multiple Hollywood stars have denied performing at the upcoming mega-event. Pop star Dua Lipa on Monday broke her silence on her Qatar FIFA WC 2022 performance and stated that she won't be traveling there due until Qatar stops or take action against human rights violation. Furthermore, British rock and pop singer Rod Stewart also revealed that he turned million dollar offer to perform in Qatar.
Dua Lipa took to her Instagram story and clarified that she has not been involved in negotiations to perform in Qatar. The pop star further stated that she plans to visit the country only if Qatar fulfills its pledge against human rights violation. "There is currently a lot of speculation that I will be performing at the opening ceremony of the world cup in Qatar. I will not be performing and nor have I ever been involved in any negotiation to perform," wrote Dua. Further, she wrote, "I will be cheering England on from afar and I look forward to visiting Qatar when it has fulfilled all the human rights pledges it made when it won the right to host the World Cup. One love Dua x." Notably, it was reported that Dua Lipa was approached to perform her hit song 'Levitating' in Qatar for the FIFA WC 2022.
Joining the trend, British rock and pop singer, Rod Stewart claimed that he turned down a large paycheck to perform in the nation last year amid criticism regarding human rights in the territory. "I was actually offered a lot of money, over $1m, to play there 15 months ago," Stewart, 77, told The Sunday Times. "I turned it down. It's not right to go. And the Iranians should be out too for supplying arms."
For the unversed, Qatar has faced controversy as of late for its systemic discrimination against women and the LGBTQ+ community as well as the reported deaths of 37 migrant workers helping to construct the stadiums where the World Cup will be held.
FIFA WC 2022 Guidelines
From Alcohol to Dress Code, an essential list of don'ts for fans traveling to Qatar for FIFA World Cup 2022
Qatar has sought to portray itself as welcoming to foreigners but traditional Muslim values remain strong in the hereditarily ruled middle-eastern country.
Qatar's existing laws are based on the conservative ideals of Islamic law or Shariah has been at the center of persistent criticism owing to its stringent measures, in addition to it the core Islamic values have been given the utmost priority in structuring the guidelines for the fans coming to Qatar to cheer their team.
So, if you are planning to travel to Qatar for witnessing the grand FIFA World Cup you must be well aware of Qatar's laws and cultural values in order to make sure you don't land at the center of any legal trouble.