Published On
FirstStoryPositive: Meet this Pro-Photographer, who Shows It's Never Too Late to Live Your Dream
Seshadri Sukumar began his career as a bank employee in Chennai and has since covered all major sporting events, including FIFA and the Olympics.
Author :
Sheetal J Bhalla
Passion knows no limits and is unaffected by age or prejudice, as Seshadri Sukumar's story demonstrates.
He continued to pursue his passion for photography while working as a bank employee for the major part of his career. He decided to take a risk and pursue his ambition of becoming a professional sports photographer as he neared retirement.

Today, he is at the forefront of the media, covering every important moment of the Olympics, including India's historic gold medal victory. He has travelled the world photographing sporting events for the past 35 years, including multiple Olympic games, the FIFA World Cup (2010 and 14), the Asian Games in Qatar (2006) and Guangzhou (2010), the ICC Cricket World Cup, all T20 World Cup tournaments, the Indian Premier League, and tennis tournaments, to name a few.
Also Read: FirstStoryPositive: Meet 5 para-athletes who broke stereotypical constraints & reached Paralympics 2020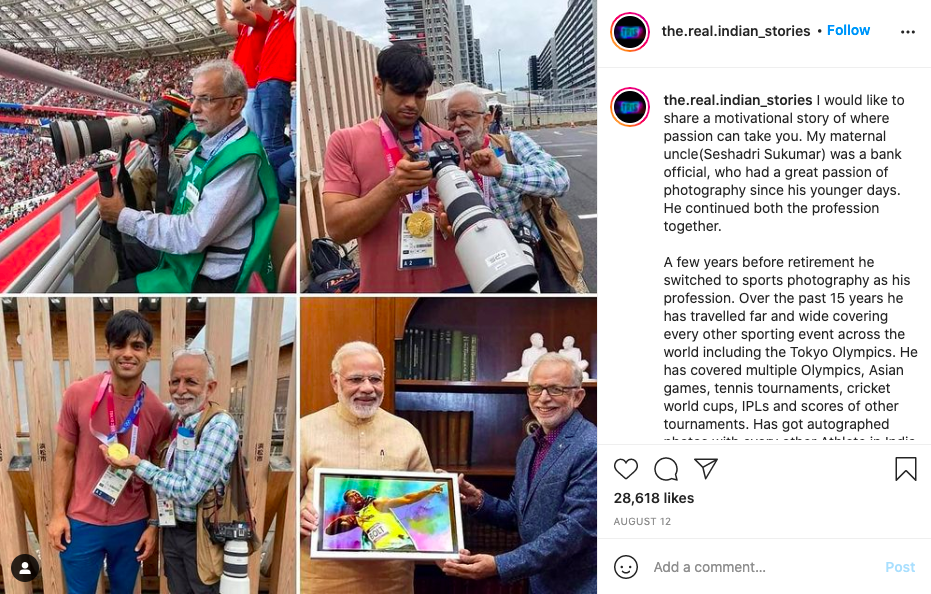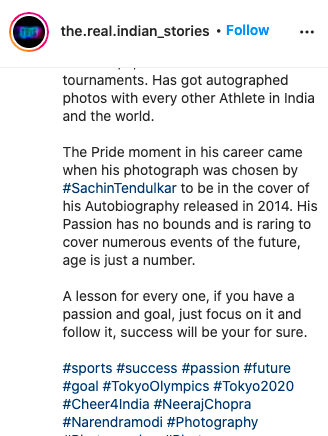 His nephew, in honour of his brilliance, recently wrote an emotional social media post that has now gone viral, reaching almost a million people.
Many people have been inspired by Seshadri Sukumar's life and work. He tells True Scoop about his inspiring story.
Seshadri Sukumar was born in Thanjavur, but his parents relocated to Chennai soon after. His father, a printing press manager, taught his son the value of a solid education and ensured that he had a steady career. Seshadri, like many others at the time, applied for a job with a major bank after graduating with a B.Com degree.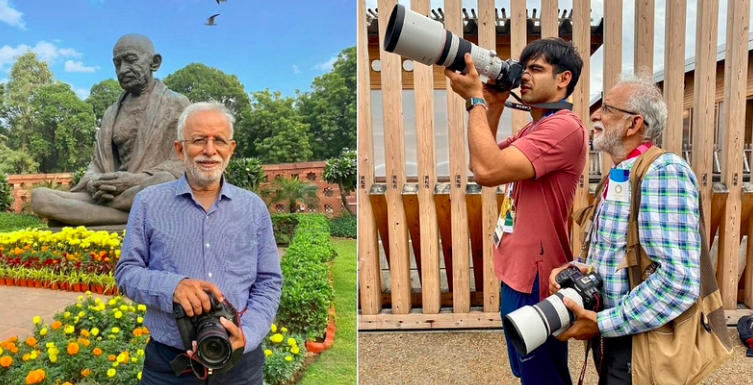 "In those days, the appointment process may take months or even years. So I applied for the position in 1976 and received confirmation of my appointment and a letter in 1978. I chose to acquire new skills including typewriting, bookkeeping, photography, and moreover the two years in between. But it was photography that I fell in love with.
Also Read: FirstStoryPositive: Doctor from rural Andhra charges just Rs 10 for house visits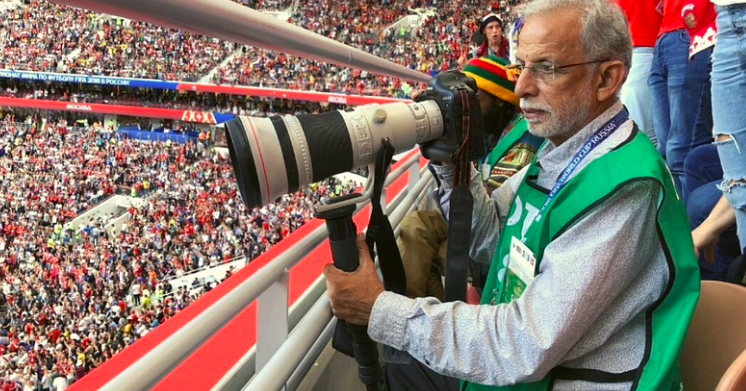 After receiving confirmation of the job, I went to work as a chief cashier at a bank in Manampatti, near Mahabalipuram. I was relocated to Chennai after ten months, and in 1979, my employers recognised my photographic skills and hired me as their official photographer," he adds, adding that he managed his multiple duties for the following 21 years. He started working as a freelance sports photographer in 1984.
"At the time, I was really interested in photography, but purchasing a brand new camera was too expensive. I recall approaching one of the top photojournalists and asking if he would sell me an old camera. He said it will cost Rs 1,200. But this was out of my budget range, so to escape the issue, I urged him to reduce the price to Rs 600, believing I'd made an impossible bargain.
I was surprised that he agreed. That's when I decided to take my photography more seriously. He "pushed" him to pursue a career in the profession, he claims.
He began accepting foreign assignments after retiring in 2001, covering a variety of iconic sporting events.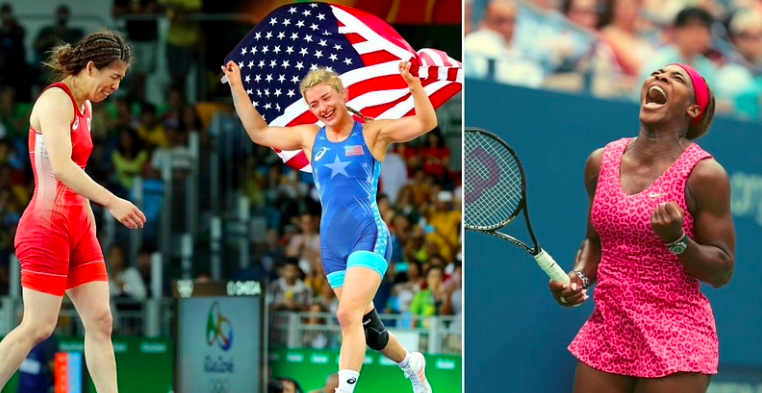 "Sports is all about passion and its expression," he added, recalling such unforgettable occasions. As sports photographers, it is our responsibility to capture the most important moments, whether they are won or lost. One such incident was when Helen Maroulis made history by defeating 13-time Olympic champion Saori Yoshida, a Japanese freestyle wrestler, at the 2016 Rio Olympics.
For the United States, it was a historic moment, but for Japan, especially Yoshida, it was a shattering defeat. "The raw emotion of grief on her face was caught in my photograph." The Photographic Society of America later awarded Seshadri a gold medal for this image.
In 2012, the Chennai-based photographer received the prestigious Rotary Award for his unwavering contributions to the field. One of Seshadri's most memorable events, in addition to numerous other honours, was when ace batsman Sachin Tendulkar picked one of his photographs for the book cover of his autobiography, "Playing It My Way," released in 2014.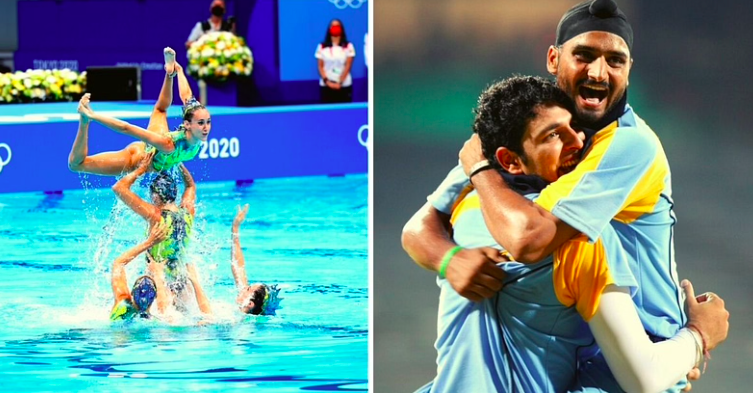 "When I got a call from a London-based publishing firm asking to use my image in Sachin Tendulkar's book, I was shocked and speechless for a time. He had picked mine out of thousands of clicks, and that was such an honour. I was taken aback when they started talking about remuneration since it wasn't about the money, but about the recognition. Seshadri Sukumar expresses his gratitude by saying, "I am deeply humbled by it."
His love for his craft and sports has driven him to push the boundaries and improve every day. He has done it all, from sitting in a single position for almost 4 hours to get a single image of Usain Bolt to photographing the top national and worldwide sports personalities. "After that, I'd like to publish a picture book about synchronised swimming as a sport," he says. And I only feel as if I'm getting started!"
Seshadri Sukumar's inspiring story shows that there are no limits to your passion. A person at any age can fulfil his/her dreams and follow his passion.