Published On
FirstStoryPositive: Know Indian Hockey Captain Manpreet Singh Who Created History In Tokyo Olympics
Manpreet Singh will go down in Indian hockey history as the captain who led the country to its first Olympic medal in 41 years. Here's his inspirational story.
Author :
Sheetal J Bhalla
Indian men's hockey team won bronze after defeating Germany 5-4 in a historic match at Tokyo Olympics 2020. While this isn't the first time the country has won under Manpreet Singh's leadership, the fact that it's an Olympic success after 41 years makes it even more special.

Manpreet has played 259 international matches in his field career, collecting a continuous run of gold medals. However, his personal path to the field has a backstory.

Manpreet Singh was an average child growing up in the little town of Mithapur in Jalandhar, who spent his days playing video games and listening to music. When he was nine years old, he witnessed his father and siblings playing hockey and was encouraged to try it himself. For the risks of becoming a sportsperson, however, this was unacceptable to his family.
Also Read: FirstStoryPositive: Meet this environment activist, who pastes photos of Gods on trees to save them

"One day, when I was ten years old, my brother locked me in a room right before I was supposed to leave for coaching," he told True Scoop. I did, however, manage to escape and join him in the practice field. He was furious and about to strike me, but the coach stated that because I was so enthusiastic, I should be given an opportunity to learn the game."
Watch the exclusive interview with Manpreet Singh.


Even after that, his athletic career was fraught with problems in the early phases. Manpreet's father died in 2016, leaving his mother to bear the burden of parenting three children. Despite this, his determined attitude ensured that his mother would do everything she could to assist him in realising his ambition. She supported her son's goal against all odds by doing odd jobs.

"I would be nothing if she wasn't there. In an interview with True Scoop, Manpreet said, "I owe her everything I've achieved in my career."
Manpreet Singh's mother also opens up about his son's feelings post historic win. See Manpreet Singh's mother emotional interview with True Scoop news.


The making of a true captain
Throughout his childhood, many athletes such as boxer Mary Kom, former hockey captain and flag-bearer Parjat Singh, and Cristiano Ronaldo have sparked a light in him, according to the great champion. He also told True Scoop that "their success stories have been a great motivation for me."
Also Read: FirstStoryPositive: This Bengaluru businesswoman aims to bring quality food to your plate

Manpreet is credited for leading a number of athletes and teams.

In 2013, he was the captain of the junior national team, having made his debut in the 2012 London Olympics. In addition to the Men's Hockey Junior World Cup, the Asian Games in Incheon, and the 2013 Sultan of Johor Cup, his captaincy also earned gold in the 2014 Commonwealth Games in Glasgow.

Nonetheless, any engagement with the established leader reveals his devoted attention to the game and his squad. "We have a culture on this team where there is no distinction between veteran players and junior players," he stated in an interview with True Scoop. Everyone on the squad encourages each other to play without fear or hesitation."

Before leading his squad to Tokyo Olympics, he said in an interview given to True Scoop, "It's a huge honour for a player like me to go from growing up and playing hockey in Mithapur village to being selected the Indian contingent's flag bearer. It is a source of pride and inspiration for both the Indian hockey team and the supporters, and I hope we return from Tokyo with a medal".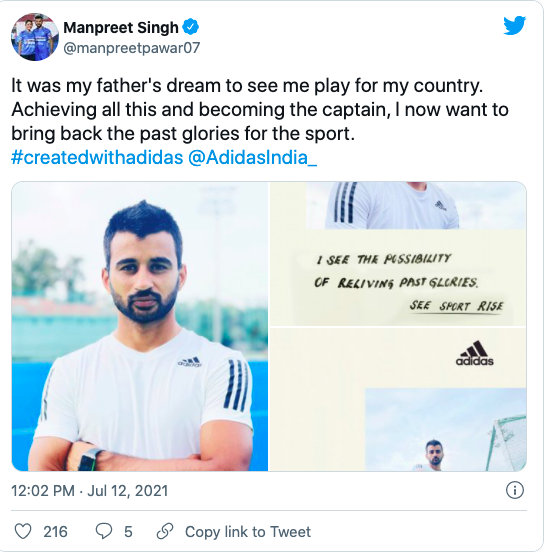 When he becomes a world champion, he said, "It was my father's dream to see me play for my country. Achieving all this and becoming the captain, I now want to bring back the past glories for the sport".