An Indian tennis player, Ankita Raina, defeated higher-ranked Arina Rodionova in the first round of the women's singles qualifiers at the French Open on Monday. In a thrilling rain-affected three-setter, the 28-year-old Indian, ranked 182, showed steely nerves as she came back from a set down to beat Russian-born Australian Rodionova, ranked 168th, 3-6 6-1 6-4.
Raina had proceeded to the third round of the Australian Open qualifiers, the year's first Grand Slam.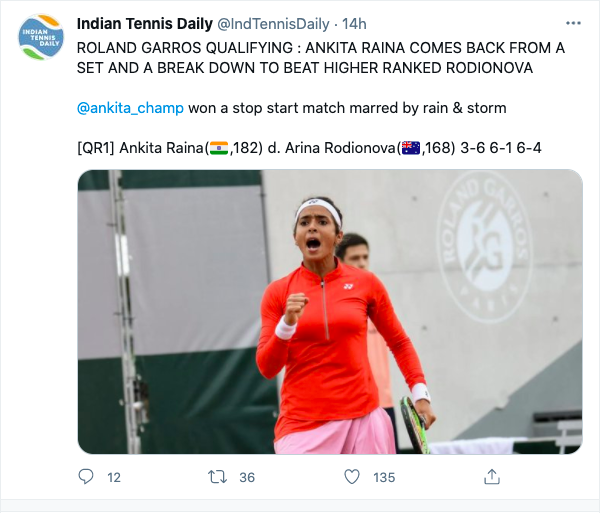 Sumit Nagal will face Roberto Macorca in the first round of the men's qualifiers, Prajnesh Gunneswaran will face Oscar Otte of Germany, and Ramkumar Ramanathan will face Michael Mmoh of the United States.

At a meeting held earlier on Monday, tennis player Ankita Raina was added to the Target Olympic Podium Scheme. Raina, who was born and raised in Gujarat, recently broke into the top 100 in the world in women's doubles after winning her first WTA 250 title in Australia at Phillip Island. Though representing India in the Billie Jean King Cup, she has been partnering with Sania Mirza.
Financial sanctions of nearly Rs. 1 crore were also approved in Mission Olympic Cell meeting.
Also Read: Wrestler Sushil Kumar: From reaching heights as Olympian to being hooked up in controversies
Divij Sharan and Rohan Bopanna, both tennis doubles players, received MOC permission to fund their participation in 14 and 11 tournaments, respectively, between January and June 2021. Divij Sharan's proposal cost about Rs. 30 lakh, and in the current Olympics period, he got Rs. 80.59 lakhs in support from TOPS.

Rohan Bopanna's proposal cost Rs. 27.61 lakh, which included fees for coach Scott Davidoff and physio Gaurang Shukla. During the current Olympic cycle, he has already received Rs. 1.24 crore from TOPS.