Published On
Govinda-Krushna Feud: Kashmera Shah bashes Sunita Ahuja- 'Bad Daughter-In-Laws' Have 'Cruel Mother-In-Laws'
Sunita Ahuja's latest remark prompted actor Kashmera Shah to reply by labelling her a "terrible daughter-in-law."
Author :
Sheetal J Bhalla
Kashmera Shah has reacted to actor Govinda's wife Sunita Ahuja's recent criticism of her. Kashmera is married to Krushna Abhishek, Govinda's nephew. Sunita referred to her as a "bad daughter-in-law" in a recent interview.

Kashmera reacted to the new development in their 'family dispute' on Twitter on Thursday. She said she had been in the United States and just found out about Sunita's comments when she returned.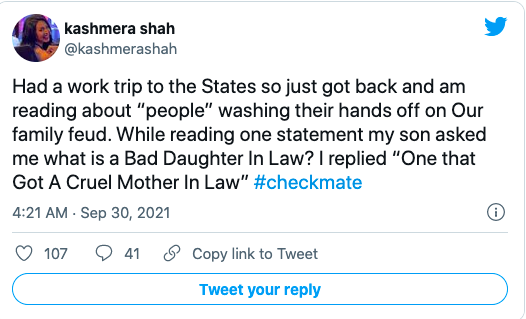 "Just returned from a business trip to the United States and am reading about 'people' washing their hands of our family quarrel. My son asked me what a bad Daughter In Law is when I was reading one of the statements. "I replied 'One that Got A Cruel Mother In Law' #checkmate," she wrote in her tweet.
Since 2016, Govinda and Krushna, as well as their wives, have been embroiled in a dispute. Sunita was irritated because she thought Kashmera had humiliated Govinda for 'dancing for money.' Meanwhile, Kashmera was irritated that Govinda and Sunita did not pay a visit to their ill boys at the hospital.
The feud was reignited recently when Krushna declined to appear on an episode of the Kapil Sharma Show in which Govinda and Sunita were guests. Sunita stated in one interview that she did not want to see Krushna's face again, while Kashmera stated in another that she does not know who Sunita is.
"I don't respond to bad things," Sunita remarked in an interview with a prominent newspaper in response to Kashmera's remarks. They are acting badly despite the fact that I have cared for them like a mother. When we bring a bad daughter-in-law into the house, the problems begin. I'm not going to take anyone's name. In my life, I have so much work to accomplish." She went on to say that Krushna's side is continuously bringing up "these stuff."

Meanwhile, Krushna stated that he hoped their conflict would be resolved soon.