Published On
How can Adani's share downfall impact common people & harm Indian Economy?
Talking about common people, there are two companies that are currently dangling amidst the Adani Share downfall- LIC and SBI. Author :
Ujjwal Samrat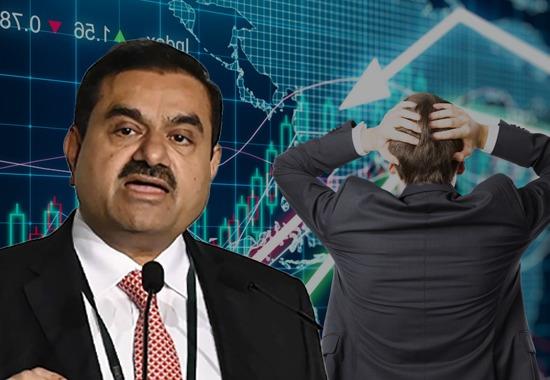 The American short-seller firm Hindenburg research report has indeed made a huge dent in the Adani Group. The stocks of the Adani Group continued to plunge on Thursday and fell over by at least 26 per cent. According to the National Stock Exchange, the scrip of Adani Group's flagship firm Adani Enterprises currently stands at 1,565.30. The Adani Enterprises stock price halved at 2996.20 on Wednesday morning, while it slumped to 2,179.75 by the time the market got closed. The Indian stock market continues to oberse blood-bath and the investors money continue to be wiped out. However, in an attempt to win the investors trust back, Gautam Adani called off the company's FPO despite of being fully subscribed. While the Adani Group's shares continue to hit new low every passing day, the question arises how it will impact the common people and the Indian Economy. Talking about common people, there are two companies that are currently dangling amidst the Adani Share downfall- LIC and SBI. While LIC is a public sector company that takes the common people's money so that it can pay them back their money with an interest, the State of Bank of India (SBI) is the biggest bank of India operation in the entire country.
How Adani share downfall will impact the common people?
First, let's discuss the LIC. Notably, LIC has made an investment of Rs 35,000 crore in the Adani shares. As per LIC's official statement, the value of it even today is Rs 56,000 crores. So, there is no loss notionally. There is no profit also notionally. However, fraud allegation has triggered a rout in Adani group company stocks. The rout has also threatened the value of investments made by the Life Insurance Corporation (LIC) and public sector banks. Adani group stocks, where LIC is heavily invested, have lost over USD 100 billion in value since a tiny New York short seller came out with a damning report alleging financial and accounting fraud by the ports-to-energy conglomerate. As a result, the opposition led by the Congress party has announced a protest against the Centre. The Opposition is using the argument that the Adani Group's exposure to public sector banks like the SBI and LIC has a major impact on middle-class savings. Meanwhile, Opposition leaders said that they anticipate the government to brazen it out and refuse to give in to their demand, but they will dig in and try to use the Parliament stage to corner Prime Minister Narendra Modi.
Now, coming to the State Bank of India, reports suggest that the country's largest financier has given loans of as much as $2.6 billion to companies in the Adani conglomerate, or about half of what is allowed under rules. Furthermore, it stated that the SBI's exposure includes $200 million from its overseas units. Dinesh Kumar Khara, chairman of SBI, said earlier on Thursday the tumult-hit Adani Group companies were servicing the loans and he doesn't see an "immediate challenge" to whatever the bank has lent so far. Amidst the downfall of Adani shares, Union Finance Minister Nirmala Sitharaman also seemed stress-free. Exposure of big lenders such as LIC and State Bank of India (SBI) to the crisis-ridden Adani group is well within the permissible limits as stated by these lenders, said Union Finance Minister Nirmala Sitharaman in an interview with News Organization.
Common People
To understand how the common people will be impacted with the current crisis, let's remember the example of Sahara India. The investors or moreover majority of the common people of India are yet to get their money and promised profits from Sahara India. On 30th September 2009, Sahara Prime City (A company of Sahara Group) filed a DRHP with SEBI for its IPO. While analysing the DRHP, SEBI detected some error in the fund-raising process of the two companies of Sahara Group (Sahara India Real Estate Corporation and Sahara Housing Investment Corporation). During that exact period, SEBI received complaints on 25th December 2009 and 4th January 2010 that SIRECL and SHICL are issuing Optionally Fully Convertible Debentures (OFCDs) and raising funds in a wrong way. Because of these complaints, SEBI's doubts were proven right. Consequently, SEBI started investigating these two companies and asked Sahara India Group for clarification regarding their method of fundraising. That's when SEBI learnt that SIRECL and SHICL have raised around Rs. 24000 Crores from 2-2.5 Crores investors via OFCD. Although the Sahara Group is trying to pay back the money in instalments, it is yet to ful-fill its promises.
Adani stocks downfall: Explosive Twitter thread alleges Gautam Adani's firm fell victim to 'very-well planned attack'
Now, coming back to LIC, it is pertinent to mention here that it has not showed any irregularities or scams. LIC is a Public Sector Company, however, it has invested in the Adani Group, therefore, putting the common people's money at risk. However, LIC has clarified that it has only invested 1 percent and that the company doesn't have too much exposure with the Adani share. And the same thing goes for the State Bank of India.
Adani Group's debut on Indian Banks
Recently, CLSA in its latest note was quoted saying that share of bank funding in overall Adani group debt is less than 40 per cent and that bonds, financial institutions and foreign banks form a larger part of the group debt. CLSA said bank funding to the group has not materially increased in the past few years, even as debt of top five Adani companies has increased from Rs 1 lakh crore to Rs 2 lakh crore over the past three to four years. For study, CLSA aggregated the consolidated debt of 5 Adani group companies: Adani Enterprises, Adani Ports, Adani Power, Adani Green and Adani Transmission. On an absolute level, it estimated that bank debt stood at Rs 70,000-80,000 crore of the Rs 2 lakh crore debt in FY22. CLSA noted that private banks' exposure to the group is quite low at below 2 per cent of the group net worth and that the recent acquisition of Holcim assets and its financing of Rs 42,000 crore was entirely done by foreign banks. Bank funding in the overall Adani group debt has come down from 86 per cent in FY16 to less than 40 per cent in FY22, with exposure of PSU banks falling to 25 per cent from 55 per cent and that of private banks to 8 per cent from 31 per cent five years ago.