Published On
LeBron James Los Angeles Lakers agreement: 4 times NBA champion signs a $97.1 million contract extension for 2 years
The deal further includes a 15% trade kicker making him the highest-earning player in NBA history with a whopping %532 million in career guaranteed money, edge passing another legend of the game Kevin Durant of the Brooklyn Nets
Author :
Tushar Singh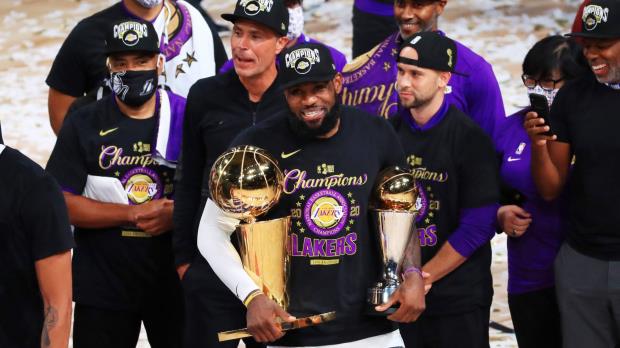 Los Angeles star and one of the greatest in the history of sports LeBron James has finally reached terms with his team for a two-year contract extension worth $97.1 million which includes the clause of inducting a player in the 2024-2025 season.
Klutch sports CEO Rich Paul while talking to the American media informed about the deal extension. The deal further includes a 15% trade kicker making him the highest-earning player in NBA history with a whopping %532 million in career guaranteed money, edge passing another legend of the game Kevin Durant of the Brooklyn Nets.
James is ineligible to be traded during the upcoming 2022-23 season because the second year of his extension exceeds a 5% raise. James entered the final season of his contract worth $44.5 million which also gave him the option of playing as a free agent in the two seasons.
The Lakers could have north of $20 million in salary-cap space in the 2023 offseason and would have the ability to sign a third max contract player in the 2024 offseason. The player options increase salary-cap space if players decline them, and yet remain on new deals.
https://www.truescoopnews.com/newsdetail/why-fifa-banned-india-heres-everything-you-need-to-know-and-how-praful-patel-is-linked-to-it
James is turning 38 this December making him limited to signing a two-year extension because he will be 38 or older when his current deal expires, a rule in the league's collective bargaining agreement.
With James's son, Bronny entering his senior year of high school makes him eligible to be featured in the 2024 NBA draft. James on multiple occasions has expressed his desire to team up with his son before he finally retires with the present tag of being of the finest star to have embraced the game.
Last season The Lakers missed qualifying for the playoffs, despite James averaging 30.3 points, 8.2 rebounds, and 6.2 assists. Injuries limited James to 56 games. This season with new hopes and aspirations the lakers will aim to strike back hard with James looking to take his team past the standard to aim for the big prize.