Published On
Meme-makers recruitment: How to apply for StockGro's Chief Meme Officer with Rs 1 Lakh salary
StockGro has posted the vacancy on LinkedIn and it has since then garnered a lot of attention Author :
Ujjwal Samrat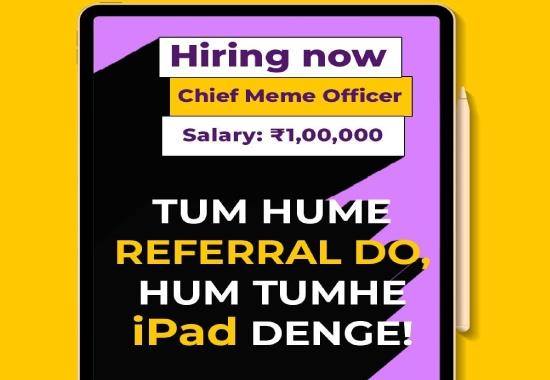 Labeled as an opportunity of a lifetime by netizens on social media, meme-makers' recruitment has been buzzing on the internet. Last Week, a Bengaluru-based startup named StockGro released hiring for people fluent in meme-making for the post of 'Chief Meme Officer'. The Chief Meme Officer recruitment has gone viral ever since then as it is among the rare moments when a company has officially announced hiring for meme-makers. For the unversed, memes are basically funny yet trending templates or videos taking a dig at oneself or any topic. For example, if you have scrolled down Instagram or Facebook, you must have encountered some funny templates or videos which had made you laugh out loud. Now, the question arises what is Chief Meme Officer qualification, salary and how to apply for the Chief Meme Officer post? The answer lies below-
Chief Meme Officer salary package, qualification, and how to apply
StockGro has posted the vacancy on LinkedIn and it has since then garnered a lot of attention. Not only this, anyone who refers the right candidate will also be rewarded and will be given a free iPad. As per company's hiring post, Chief Meme Officer salary package will Rs 1 Lakh per month. The ideal candidate should be able to effortlessly connect finance and fun, have an obsession for all things hilarious and the knack to turn trends into viral content in sync with the brand's messaging. The person should possess a sharp sense of sarcasm and be able turn around boring financial concepts into creative posts. The daily tasks of the CMO will include curating, ideating and sharing memes to increase the visibility of StockGro.
How to apply?
Interested candidates can directly apply on company's LinkedIn profile.
The job posting reads, "As the Chief Meme Officer, you'll be tasked with crafting content that not only make us laugh but also stays true to our brand's tone and message. It's a challenge to strike a balance between being hilarious and on-brand, but we're sure you're up for it, you finance-savvy ninja."
What frauds & scams can land you in legal trouble before applying for Visa in Canada?
"The compensation for this position is Rs 1,00,000/- month. So, if you're ready to turn the finance world into a meme-filled wonderland, then we want you on our team.Come join us and bring your finance meme game to the next level," the post adds.