Published On
HBD Nisha Rawal: Actress celebrated her special day with son, mother; see PICS
Nisha Rawal hosted her birthday party amid her current court battle with husband Karan Mehra, who was not present there.
Author :
Sheetal J Bhalla
Nisha Rawal arranged a birthday bash party on the occasion of her bday. Yet her husband Karan Mehra is missing. This came following the couple's ugly battle earlier this year in the month of june.
It's not clear that she invited her friends on her birthday but it can be clearly seen in
the photos that she celebrated her bday with her mother and cute son. Although photos from the birthday celebration had surfaced online, Nisha herself shared them on her social media pages. Sharing pics on her Instagram Page, Nish Rawal caption them as "My special day with my special people!". Karan Mehra nowhere to be found in any of them.


In another video posted by Nisha, it can be seen that She is very happy with the ones present in her life. While posting a birthday party video, Nisha wrote about her present life she is totally enjoying with her mother and son. She wrote, "My happiness doesn't depend on the ones present in my life! My happiness gives strength to the ones present in it."


Nisha had a 'quarantine Diwali' two weeks ago. On October 28, the actress notified her followers that she was COVID positive, and a week later, she tested negative and was placed under quarantine.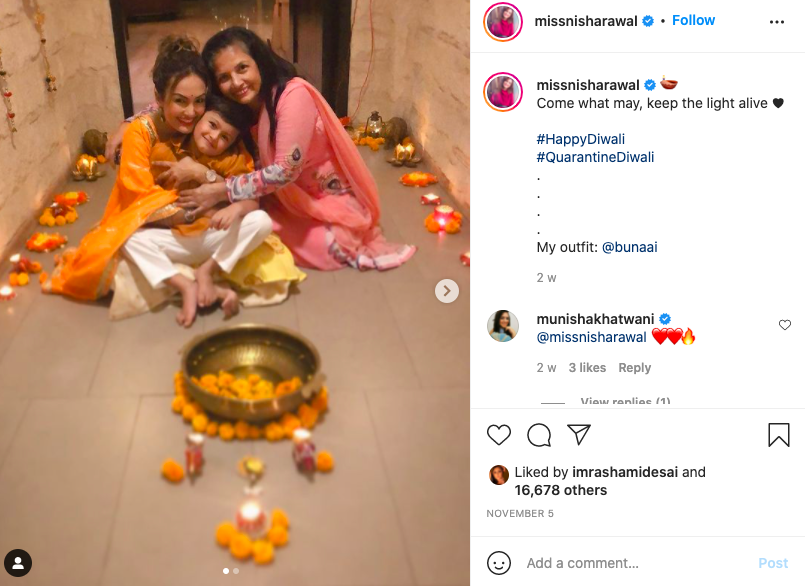 With her son Kavish Mehra and her mother, Nisha Rawal enjoyed the festival of lights. The actress and her kid wore matching mustard-colored outfits that matched the diyas' lights. "Come what may, keep the light alive #HappyDiwali #QuarantineDiwali," Nisha captioned the photo, looking joyful in her son's company.

Nisha continues to share videos and photos of her son Kavish, as well as snippets from her daily soap. The actress, who has been battling COVID, appears to be doing better today. When Nisha was ready to receive her second dose of vaccine, she was infected with the coronavirus. She urged everyone to take precautions because the third wave is hazardous and COVID is still present.

Nisha filed a police report accusing Karan of domestic violence and accusing him of having an affair. Karan was arrested and then released on bond, but he rejected all of Nisha's allegations and expressed fear for his son's safety, saying that Kavish is not safe with her.