Published On
PM Modi Condoles Death of Arvind Trivedi 'Ravana' From TV Cult Hit 'Ramayan'
Arvind Trivedi, who played Raavan in the film 'Ramayan,' died at the age of 82 on Tuesday night at his Mumbai home after suffering a heart attack.
Author :
Sheetal J Bhalla
PM Narendra Modi expressed his condolences on the death of legendary actor Arvind Trivedi, who was well known for his role as Raavan in the Ramayan. PM said, "We have lost Shri Arvind Trivedi, who was not only an exceptional actor but also was passionate about public service. For generations of Indians, he will be remembered for his work in the Ramayan TV serial. Condolences to the families and admirers of both actors. Om Shanti."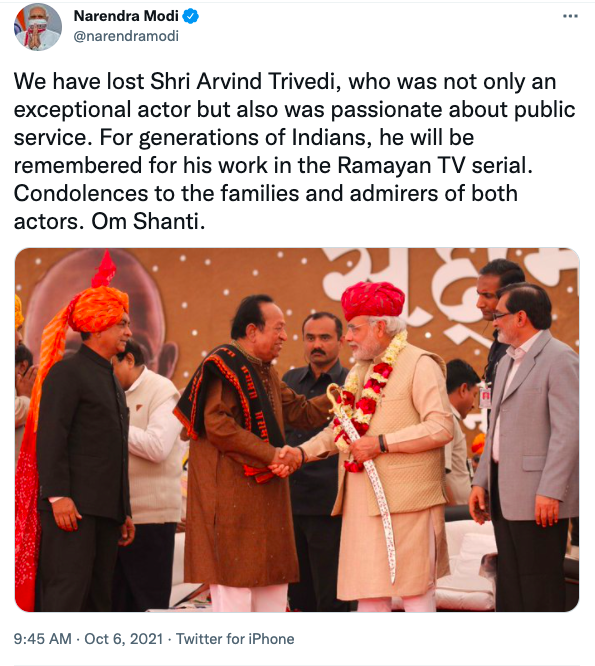 Late Arvind Trivedi was also known as "Bhishmapitamah of Gujarati films."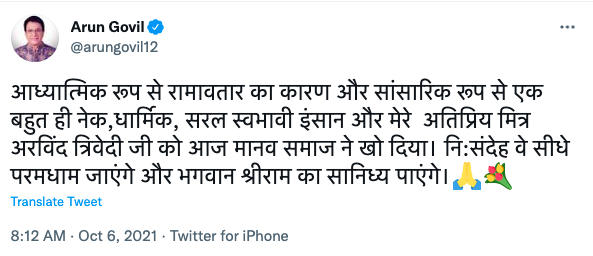 His co-star actors Arun Govil and Sunil Lahri confirmed the news of Arvind Trivedi's passing away on social media and paid a heart-warming tribute to the legendary actor. Sunil Lahri posted a pic of late Arvind Trivedi on Insta captioning it, "Bahut dukhad Samachar hai ki Hamare Sabke Pyare Arvind bhai (Ravan of Ramayan) Ab Hamare bich Nahin Rahe. (It is very sad news that our beloved Arvind Bhai, Ravan of Ramayan, is no more.) Bhagwan Unki Atma ko Shanti De... (I pray his soul rest in peace.)I am speechless I lost father figure my guide well-wisher & gentleman," he added.


Arvind Trivedi, the late actor, had a long and glorious career. The actor is most known for his role as Raavan, although he also appeared in the programme Vikram Aur Betaal. He worked in the film industry for 40 years, including notable work in Gujarati cinema. Nearly 300 films, including Hindi and Gujarati, featured the late actor. Aside from the highly successful Ramayan, the outstanding actor's performance in Vikram Aur Betaal was also noteworthy.

In addition to acting, Trivedi served in the Indian Politics as a BJP Member of Parliament from 1991 to 1996. From the Sabarkatha constituency, he was elected. Following the resignation of director Vijay Anand, the well-known actor also served as acting head of the Censor Board for Film Certification (CBFC).