Published On
Police Complaint Against Mehbooba Mufti for saying SRK's son Aryan being targeted for his surname 'Khan'
According to the lawyer who filed the complaint, Mufti should be charged with 'attempting to create animosity amongst communities.'
Author :
Sheetal J Bhalla
A Delhi-based lawyer has filed a police case against PDP president Mehbooba Mufti for claiming that central agencies are targeting Bollywood actor Shahrukh Khan's son Aryan Khan only because of his surname.

According to the lawyer who filed the complaint, Mufti should be charged with "attempting to create hatred between communities." The former chief minister of Jammu and Kashmir's statement, according to the complaint, was a "inciting statement intended to generate hatred and conflict among communities."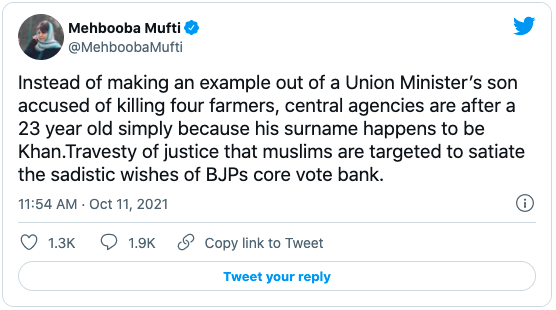 On Monday, Mufti stated that Muslims are being targeted in order to appease the BJP's core voting base. "Rather than making an example of a Union Minister's son who is accused of killing four farmers, federal authorities are pursuing a 23-year-old man whose surname is Khan. It's a travesty of justice that Muslims are being targeted to satisfy the BJP's main vote bank's sick desires," she had tweeted.

She was also referring to Ashish Mishra, the son of Union Minister of State for Home Affairs Ajay Mishra, who was arrested last week in Uttar Pradesh for allegedly mowing down farmers in Lakhimpur Kheri.

In connection with the Lakhimpur Kheri that claimed the lives of eight people, including four farmers, a municipal court in Lakhimpur has ordered Misra's son Ashish Misra to be held in prison for three days.