Published On
Raj Kundra Pornography Case: After his arrest, Model Sagarika Shona Suman reveals Kundra's company asked for 'nude audition'
"When I joined the video call, he demanded that I give a nude audition"
Author :
Sheetal Mahajan
Raj Kundra, the husband of actress Shilpa Shetty and a businessman, was detained in Mumbai on Monday for his suspected involvement in the making and distribution of pornographic videos via apps. Following Kundra's arrest, an undated interview with actress and model Sagarika Shona Suman surfaced, in which she made a series of charges against him, saying that she was offered a role in a web series in August 2020.

Sagarika claims in a video that went viral in February 2021 that she was requested to give her audition for the web series via video call, when three persons, one of whom she claims is Kundra, demanded a naked audition from her. In the video which went viral in February 2021, Sagarika has alleged that she was asked to give her audition for the web series via video call where three people, one of them allegedly Kundra, demanded a nude audition from her.

Sagarika Shona Suman said in the video, "I am a model with 3-4 years of experience in the industry. I have not done a lot of work . Several things happened during the lockdown that I'd like to relate. In August 2020, I received a call from Umesh Kamat ji, who offered me a web series that Raj Kundra owned and produced. When I inquired about Raj Kundra, he informed me that he is Shilpa Shetty's husband."

Also Read: WhatsApp chat between Raj Kundra and Pradeep Bakshi leaked, See how huge money earned through porn films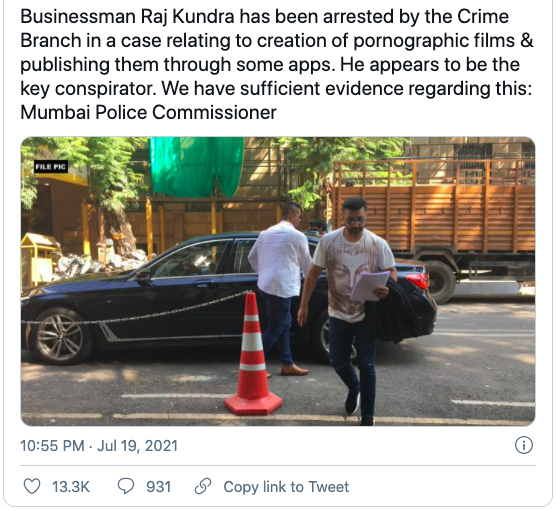 "He promised me that if I joined (the web series), I'd keep getting work and achieve great heights." So I accepted, and he told me I needed to audition. I informed him it was COVID and that I wouldn't be able to give the audition. As a result, he stated that you might do it via video call. He demanded that I conduct a nude audition when I joined the video call. I was taken aback and refused. Three people were on the video call, one of them was Raj Kundra I think. I want that if he is involved in such things, he is arrested and such a racket is exposed."
Also Read: Shilpa Shetty might be interrogated by Mumbai crime branch in porn racket case involving Raj Kundra
It's worth noting that Umesh Kamat had previously worked for Kundra's firm before being detained by Mumbai cops on February 9 for allegedly running a porn racket. According to the Mumbai Police, Kamat was responsible for uploading at least eight pornographic recordings to a mobile application using Kundra's office machinery. His name had emerged after actress Gehana Vasisth's arrest.


The Crime Branch Mumbai, earlier in February 2021 had lodged a case against Raj Kundra over the creation of pornographic films and publishing them through some apps.However, denying the charges, Mr. Kundra has sought anticipatory bail in the case.

Notably, the case came into the limelight when a model Sagarika Shona Suman held a press conference earlier this year alleging that Umesh Kamat, who was arrested in the porn film racket, is an assistant to Raj Kundra. Sagarika demanded Kundra's arrest, claiming that he was also involved in the entire racket. Also Read: Raj Kundra Pornography Case: After Shilpa Shetty's husband arrest, Kapil Sharma old video goes VIRAL

After the arrest of Raj Kundra, the statement issued by Mumbai Police Commissioner Hemant Nagrale reads, "he is being questioned in a case registered in February 2021, which relates to the creation of pornographic films and publishing them through some Apps. We've arrested Mr. Raj Kundra in this case on 19/7/21 as he appears to be the key conspirator of this. We have sufficient evidence regarding this. The investigation is in progress please."

According to the reports Shilpa Shetty's Husband Raj Kundra has also taken for medical examination after arrest.