Ray-Ban Meta Glasses price, how to buy, specification & everything about Mark Zuckerberg's AI shades
Mark Zuckerberg during the Meta Connect event 2023 announced the successor of 2021's Ray-Ban Stories.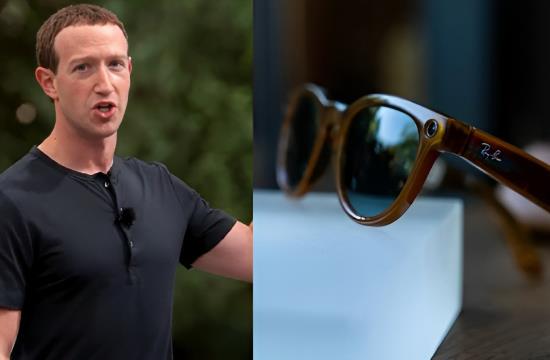 -

While the world is shifting to Artificial Intelligence (AI) and trying to integrate it into things of daily use to skyrocket its usage, Mark Zuckerberg during the Meta Connect event 2023 announced the successor of 2021's Ray-Ban Stories. Meaning, the luxurious sunglass brand Ray-Ban is collaborating with Meta to bring AI-integrated sunglasses for GenZ and people of all ages. As per official release by Facebook's parent company, in partnership with EssilorLuxottica, a new generation of Ray-Ban Meta smart glasses are not available for pre-order now in the U.S. The new glasses feature improved audio and cameras, over 150 different custom frame and lens combinations, and they're lighter and more comfortable.

What is unique about Meta's Ray-Ban Glasses?

As per Zuckerberg, people wearing high-tech glasses can now livestream from the Spects to Facebook or Instagram, and use "Hey Meta" to engage with Meta AI- Facebook's advanced conversational assistant, just by using voice. For those who still do not understand what is Ray-Ban Meta smart glass, it let you snap a photo or video clip from your unique point of view.

Ray-Ban Meta Smart Glasses price, availability

Ray-Ban Meta Smart Glasses with standard lenses start at $299 (roughly Rs. 24,999), while Polarized lenses and transition lenses are priced at $329 (roughly Rs. 27,400) and $379 (roughly Rs. 31,500), respectively. It is offered in 150 different custom frame and lens design combinations. The Ray-Ban Meta Smart glasses are currently available for pre-orders in 15 countries, including the US, Canada, Australia, and European markets. The sale of the smart glasses will start on October 17 in these regions. Meta has not revealed the India launch date of the Ray-Ban Meta Smart Glasses.

What did Mark Zuckerberg say about Ray-Ban Meta Smart Glasses?

"The next-generation Meta Ray-Ban smart glasses ...These are the first smart glasses that are built and shipped with Meta AI in them. Starting in the US, you are going to get state-of-the-art AI hands-free wherever you go. We are gonna be issuing free software updates for glasses. So, the glass will be able to understand what you are looking at. It means when you ask it a question it will answer you just by looking at it...We built one more feature. You are able to live-stream to your friends or followers from your glasses. Your friends, and followers will remain completely in the moment if you live-stream from the glasses," said Meta CEO Mark Zuckerberg.

Also Read: Mercedes-AMG G 63 Grand Edition: More than just a price tag
Okay this is sick pic.twitter.com/IUv29cLIeA

— Daniel (@growing_daniel) September 28, 2023
Ray-Ban Meta Smart Glasses specifications
A 12-megapixel sensor and an LED light, which doubles as a recording indicator are placed within two circular cutouts on either side of the Ray-Ban Meta Smart Glasses frame. Users can use the camera to take photos with a resolution of 3,024 x 4,032 pixels and 1080p videos of up to 60 seconds. With the Meta View app, the users can then share these media files to any other image/ video sharing apps.
The Ray-Ban Meta Smart Glasses are powered by the new Qualcomm Snapdragon AR1 Gen1 Platform SoC and packs 32GB of inbuilt storage. Claimed to be sleeker in design than its preceding model, Meta says that the glasses come with up to four hours of battery life, and an additional 32 hours with the charging case. One full charge is claimed to take 75 minutes. The glasses also come with an IPX4 rating.