Reliance JioBook sale date, price, how to buy & everything you need to know post-India's laptop import ban
JioBook laptop features a slimmer design and continues to run on the JioOS operating system.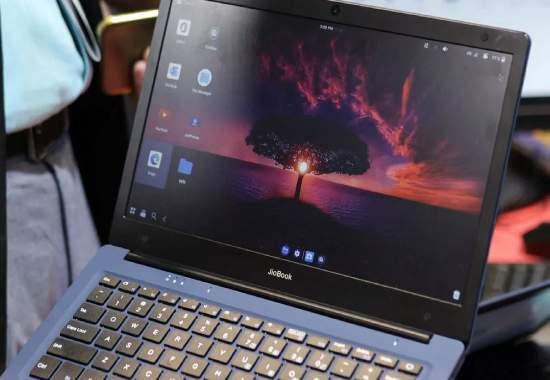 -

It is said that one's downfall is another's opportunity to rise and in India, this saying seems to be turning out to be true in the world of Laptops. Days after the Government of India banned imports of laptops in order to boost local manufacturing, the Reliance JioBook laptop is all set to go for sale. The 2023 Reliance JIoBook is a new iteration of the original Reliance JioBook of last year, though the notebook is still designed for the masses. JioBook laptop features a slimmer design and continues to run on the JioOS operating system. Not only this, Reliance JioBook is 4G LTE enabled, allowing users to be connected to the internet even on the go. The buzz around Reliance JioBook sale is quite high, courtesy of its pocket-friendly price, the electronic gadget is expected to bring a storm in the laptop market just like Jio was first launched in India free of any internet tariffs. Now, for those who are looking for the Reliance JioBook sale date or Reliance JioBook where to buy or Reliance JioBook price, or even Reliance JioBook discount, below is everything you need to know-

Reliance JioBook sale date, price & how to buy?

Reliance's JioBook sale in India will be done on August 5 via Amazon and Reliance Digital. Unlike the JioBharat V2 phone, the availability of the Reliance JioBook laptops are not limited to a certain number of buyers. Muesh Ambani and Isha Ambani-led company are banking big on Reliance Jiobook and expect that it will disrupt the laptop market in India due to its cheap prices and moderate specifications. As a result, the company is expecting that the JioBook will be sold out from most places within a few days. The new Reliance JioBook is priced at Rs 16.499 by the company and it is getting further discount in the Amazon Great Freedom Sale that begins on August 5, 2023.

Interestingly, Reliance Jiobook is even cheaper than most affordable Chromebooks in India by HP and others cost around Rs 20,000.

Talking about Reliance Jio Specifications, the laptop is powered by a MediaTek chipset paired with 4GB RAM and 64GB of storage that can be expanded. Reliance is also offering 100GB of free cloud storage to buyers along with the laptop. JioBook features an 11.6-inch HD display. Weighing just 990 grams, the JioBook comes in two colour options - Grey and Blue. Talking about the Reliance Jiobook discount, the laptop's price can be further reduced. Buyers are eligible to get up to Rs 1500 instant discount on SBI credit card EMI transactions. Furthermore, buyers can also avail up to Rs 1250 instant discount on SBI credit card non-EMI transactions. This will cut the Jiobook price from Rs 16.499 to as low as Rs 14,999 on Amazon.

Virat Kohli's unique earbuds: Apple's Beats Powerbeats Pro TWS earbuds price, where to buy & everything you need to know

Laptop import ban in India

A few days back, the Government of India introduced an immediate import restriction targeting laptops, tablets, and personal computers. The new regulation stipulates that any entity or company seeking to bring such electronic devices from abroad for sale will have to secure a "Valid Licence for Restricted Imports" in India. The laptop import ban will directly impact major companies like Apple, Lenovo, HP, Asus, Acer, Samsung, and others. The Modi Government's motive behind this directive appears to be fostering a transition toward increased domestic production. Furthermore, a major proportion of laptops that were coming to India were from China. Companies used to manufacture laptops in China and sell it in India. Therefore, this decision is another strike by the Government of India against China.