Published On
UEFA EURO 2020: Italy crowned champions, beats England in penalty shootout. See highlights
Cristiano Ronaldo of Portugal performed brilliantly in the European competition and was the top scorer. Ronaldo was awarded the title of Golden Boot
Author :
Sheetal J Bhalla
Euro 2020 Final: Italy made a happy return to football, but England's painful wait for a major title for more than five decades continued unabated, and it was only due to a penalty shootout happen. Italy won the title of European Football Championship - Euro 2020 by defeating England 3-2 in a penalty shootout in the final played on Sunday night.
The two teams were tied 1–1 in regular and extra time, the second time Italy became Euro champions. England were playing the final of a major tournament for the first time in 55 years, they have not won a major title since the World Cup victory in 1966, before that in 1990, 1996, 1998, 2004, 2006 and 2012. In major tournaments, matches were lost in penalty shootouts. See the winning moment of Italy- when they lifted their second EURO title.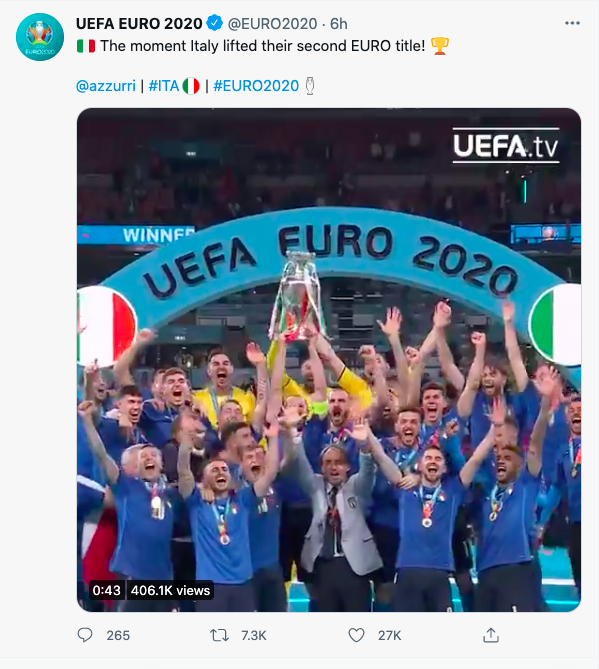 Players who won the award
Cristiano Ronaldo of Portugal performed brilliantly in the European competition and was the top scorer. Ronaldo wins the title of Golden Boot. Ronaldo played 4 matches in the tournament and during this he was successful in scoring 5 goals, in addition he also helped in getting one goal. On the other hand, Patrick Schick of the Czech Republic scored 5 goals in 5 matches but he did not help any side in the tournament, due to which Ronaldo was given this award.Portugal was eliminated after losing 1-0 to Belgium in the last 16.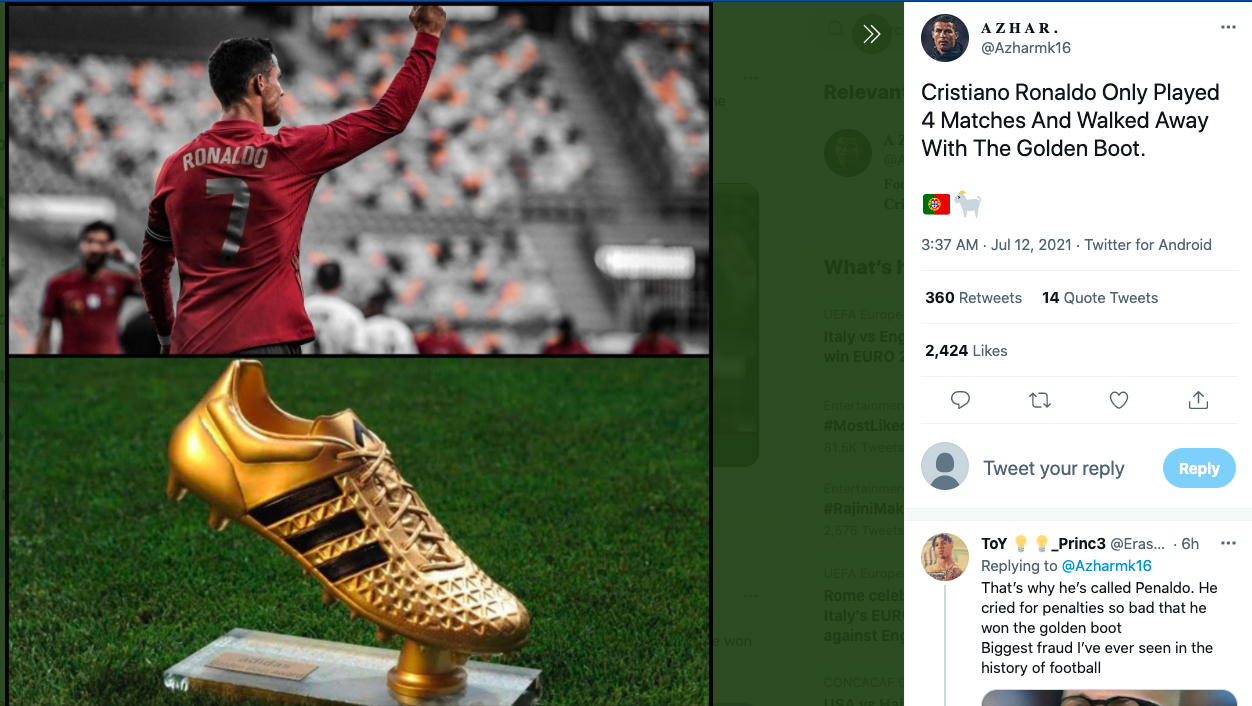 Euro 2020 top-scorer
Cristiano Ronaldo (Portugal) – 5 goals in 4 matches

Patrick Schick (Czech Republic) – 5 goals in 5 matches

Karim Benzema (France) – 4 goals in 4 matches

Emil Fosberg (Sweden) – 4 goals in 4 matches

Romelu Lukaku (Belgium) – 4 goals in 5 matches

Most goals scored: Italy (13 goals) in 7 matches and Spain (13 goals) in 6 matches

Least goals scored: Finland, Turkey and Scotland (1 goal) in 3 matches

Best Defence: England (two goals conceded) in 7 matches

Worst Defence: Ukraine (10 goals conceded) in 5 matches
Also Read: EURO 2020: Portugal Captain Cristiano Ronaldo Wins Golden Boot with 5 goals

Euro 2020 Final: Individual Prize
Golden Boot Winner: Cristiano Ronaldo (5 goals in 4 matches)
Silver Boot Winner: Patrick Schick (5 goals)
Bronze Boot Winner: (Karim Benzema)
Golden Ball (Player of the Tournament) : Gianluigi Donnarumma is the first goalkeeper to be named Player of the Tournament in Euro.



Euro 2020 prize money
Winning Team - Italy - Rs 103.5 crore
Runner-up team: England - Rs 72.48 crore